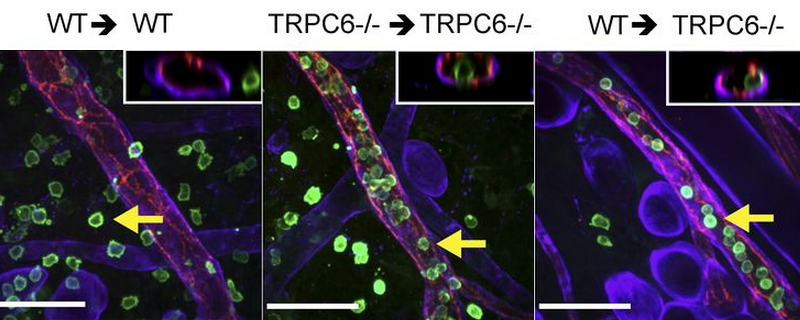 Evan Weber, a sixth-year doctoral student in the Driskill Graduate Program in the Life Sciences (DGP), studies an intricate and critical process that occurs during the inflammatory response known as diapedesis, or transendothelial migration. During this process, white blood cells migrate from blood vessels into inflamed tissues and organs.
"Endothelial cells, which form a layer that lines the inside of the blood vessel, act as a key barrier between the blood and the outside tissue in part by regulating diapedesis," Weber said. "In order to cross this barrier, white blood cells must exchange information with endothelial cells in a sort of 'molecular handshake.'"
For decades, scientists have known that there is an influx of calcium in endothelial cells during diapedesis, but they haven't known which molecule mediates this chemical signaling. Now, in a paper published in the Journal of Experimental Medicine, first author Weber and senior author William Muller, MD, PhD, Magerstadt Professor and chair of Pathology, demonstrated for the first time that endothelial protein TRPC6 is the specific calcium channel that initiates diapedesis during the inflammatory response.
"TRPC6 allows calcium to flow from the outside of the cell into the cell," Weber said. "We also pinpointed where and when during diapedesis TRPC6 becomes activated, which helps us better understand the overall molecular mechanisms that govern diapedesis."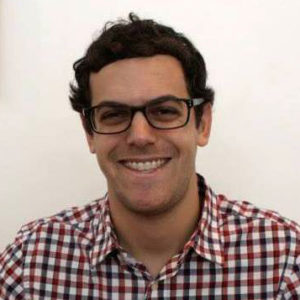 Knowing these molecular mechanisms is important because it opens the door for new targets to treat the harmful inflammation that occurs in autoimmune disorders.
"A TRPC6 inhibitor could be used as an effective anti-inflammatory therapy," Weber said. "Since this protein is presented on the surface of the endothelium and therefore exposed to the bloodstream, it could be relatively easy to target therapeutically."
In another recent study, Dr. Muller's lab described molecular signaling that occurs later in the transendothelial migration process.
"Our work is a hybrid of immunology and vascular biology, which is the study of blood vessels," Weber said. "I thought it would be a really good experience to explore both of these areas during my graduate education. I've also really liked being able to visualize cellular processes that are occurring in live animals and cell cultures using different forms of microscopy."
After graduating this year, Weber plans to study cancer immunotherapy during a postdoctoral fellowship.
This study was supported by National Institutes of Health grants R01HL046849, R37HL064774 and ZO1-ES-101684, American Heart Association predoctoral training grants 14PRE18550021 and 12PRE9330014 and the Sidney & Bess Eisenberg Memorial Fund.