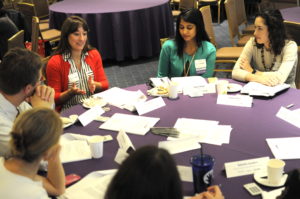 The celebration of outstanding teaching and scholarship took center stage at Feinberg's 5th Annual Medical Education Day, held on September 25. The event, which honors the contribution of students, staff and faculty, recognized 69 faculty promotions, 16 teaching awards, five presentation winners and 24 new inductees into the Feinberg Academy of Medical Educators (FAME).
At a mentoring workshop, several FAME members helped attendees strengthen and develop their communication skills through three case-based seminars.
This workshop, lead by Michael Fleming, MD, MPH, director of the Center for Education and Career Development at the Northwestern University Clinical and Translational Sciences (NUCATS) Institute, was part of the "Building Careers in Medical Education" track, one of four tracks attendees could follow at the full-day conference. Other tracks included "Technology in Medical Education," "Teaching and Assessment" and "Medical Education Research."
"We had a number of wonderful presenters in the program," said Michael Gisondi, MD, director of FAME and associate professor of Emergency Medicine.
This year, FAME created a new set of teaching awards to "honor the folks on the ground, who are doing the hard work and teaching in the threads, the elements and the phases," according to Dr. Gisondi. Threads, elements and phases are three of the components of Feinberg's medical education curriculum.
Today's Innovations in Medical Education keynote speaker Lois Nora, MD, JD, MBA, president and CEO of the American Board of Medical Specialties (ABMS), presented on the essential elements of a profession and the importance of ABMS Board Certification.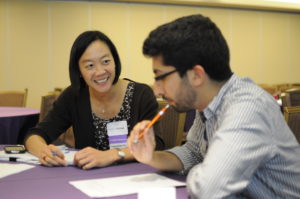 "It is wonderful to see that medical education is being recognized and taken as seriously as it needs to be," Dr. Nora said.
Dr. Nora discussed recent concerns about the process and importance of the Maintenance of Certification (MOC) requirements and urged faculty to engage with the ABMS to enhance their ability to evaluate physicians.
"You care about our profession, you care about our specialty," she said. "The public and our profession benefit from board certification, MOC and professional self-regulation, but please help us make it as meaningful as it needs to be."
Highlights of the afternoon sessions included ultra-short didactic lectures and moderated research presentations, along with workshops on designing and writing curriculum, developing objective structured clinical examination cases and creating interactive educational sessions.
Presentations also included programs outside of medicine. Kristine Healy, MPH, PA-C, assistant professor of Medical Education in the Physician Assistant Program, spoke on how the Physician Assistant curriculum has added interdisciplinary and interprofessional opportunities for its students such as learning alongside physical therapy students and joining medical students during simulation modules.
"Little by little, students are becoming interprofessional: They are not only knowing about themselves, but they are knowing about others, they are learning with, from and about each other in these various opportunities that we've incorporated in the first and second year," Healy said. "Over time we hope that our students will be able as part of these teams through our interprofessional education to provide excellent outcomes for our patients."
Ultra-short Didactic Lecture Award Winners:
Abhisek Khandai, MD, resident in Psychiatry and Behavioral Sciences, used themes and characters from the movie, "The Lord of the Rings" to explain capacity assessment.
Gregory Apel, MD, resident in Emergency Medicine, spoke on integrating free and open access medical education into residency curriculum.
Moderated Oral Research Presentation Winners:
Tyler Harris, MD, fellow in Pediatric Cardiology, presented on congenital heart disease simulation curriculum.
Celia O'Brien, PhD, instructor of Medical Education, and Marianne Green, MD, associate dean for Medical Education and Competency Achievement, presented on pre-clerkship portfolio assessment and performance in clerkships.
Lily Saadat and Christina Theodorou, both fourth-year medical students, presented on the role of interim phone calls in improving continuity of patient follow-up.
The 2015 Best Teachers of Feinberg Award:
Kristine Healy, MPH, PA-C, assistant professor of Medical Education in the Physician Assistant Program
Christopher Robinson, MS, MBA, CPO, assistant professor of Physical Medicine and Rehabilitation
Lois Hedman, DScPT, associate professor of Physical Therapy and Human Movement Sciences
Thomas Corbridge, MD, professor of Medicine in the Division of Pulmonary and of Physical Medicine and Rehabilitation
Sarah Rodriguez, PhD, lecturer, Medical Education in the Division of Medical Humanities and Bioethics
Alexander Mackie, PhD, research assistant professor of Medicine in the Division of Cardiology
Donald McCrimmon, PhD, professor of Physiology and Anesthesiology
Joan Mullan, MD, assistant professor of Clinical Medicine in the Division of General Internal Medicine and Geriatrics
Monica Rho, MD, assistant professor of Physical Medicine and Rehabilitation
Catherine Belling, PhD, associate professor of Medical Education in the Division of Medical Humanities and Bioethics
Mike Avram, PhD, associate professor of Anesthesiology
David Salzman, MD, assistant professor of Emergency Medicine and Medical Education
John Friedewald, MD, associate professor of Medicine in the Division of Nephrology and of Surgery in the Division of Organ Transplantation
FAME Outstanding Teacher Award: