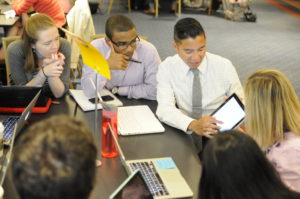 As part of last week's Synthesis and Application Module (SAM), second-year physician assistant student Diane Friedman discussed the management of a simulated patient with third-year medical students during a small group simulation-case-based-learning (sCBL) session.
This year was the second year students from the Physician Assistant (PA) program participated in SAM. SAM weeks, which launched in the fall of 2012 along with the new medical degree curriculum, are designed to provide students an opportunity to integrate and apply previously learned materials in a new context.
"The week prepared me to work more effectively as a member of a team," Friedman said. "In the small groups, there were many different roles to play, from leading discussion to synthesizing information, doing research on the computer and, finally, sitting back and actively listening. It was a unique challenge to shift between different roles throughout the week and contribute in a different way."
In the sCBL sessions, students explored topics relevant to a simulated patient over the course of his lifetime. David Salzman, MD, MEd, director of Simulation for Undergraduate Medical Education, led the sCBL sessions in addition to seven faculty members from a variety of specialties who served as experts to guide discussions.
"This educational experience provides students from two different programs an opportunity to learn together," said Dr. Salzman, also an assistant professor of Emergency Medicine and Medical Education. "In the clinical context, MD and PA students work together, and we wanted to emphasize this collaboration in the classroom as well. As both groups of learners are at a similar place in their training with regards to clinical experience, we thought the individual experiences that each student brings to the small group settings would allow for engaging and exciting discussions."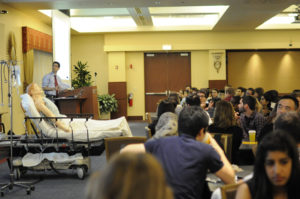 During the week, medical and PA students also participated in sessions on health literacy and patient safety and quality, and they had the opportunity to choose from 25 electives. The electives allowed students to explore topics in preparation for an upcoming clerkship, to review material or to explore career opportunities. Some topics included suturing skills, visual diagnostics, IV blood draws and imaging.
"It was great to be collaborating with the medical students," Friedman said. "Throughout the week, we were able to take time with x-rays, CT scans and ultrasound images and break down exactly what we were seeing. The medical students seemed to have more experience with looking at diagnostic imaging studies, so I learned a lot from them."
Lauran DeCeault, a second-year PA student, said she enjoyed the interactive learning environment using technology including tablets.
"My favorite activity during the SAM week was being able to use technology in an innovative way to discuss and review cases in groups," DeCeault said. "Going over cases is helpful when learning medicine. When you add interactive play with iPads, the experience is not only more profound and worthwhile but also more entertaining. As a visual and interactive learner, it was as close to examining a real patient as one could get."
Unlike previous SAM weeks, where all students had previously covered the same coursework, students participating in this SAM week had completed different clinical rotations. The main focus for the week, therefore, was to create sessions that were relevant to any student.
"SAM week pushed me to go outside my comfort zone and collaborate with a team of strangers to problem-solve," DeCeault said. "As I work into my professional self, I recognize the importance of being thorough, talking through my reasoning and reminding myself that there is a role for art in medicine."