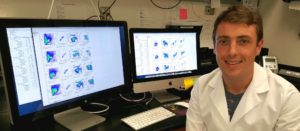 Kyle O'Hagan, a third-year graduate student in the Walter S. and Lucienne Driskill Graduate Program in Life Sciences, investigates the development and function of a subset of immune cells called regulatory T-cells, which limit the proliferation and function of autoreactive T-cells.
While the role of regulatory T-cells is well-known in preventing autoimmunity, the precise signaling pathways behind how these cells develop in the thymus remains elusive.
"Studying regulatory T-cells is important in our understanding of how the body controls autoimmunity, inflammation and cancer," said O'Hagan, also a Fulbright Scholar in the lab of Hyewon Phee, PhD, adjunct assistant professor in Microbiology-Immunology. "Regulatory T-cells naturally suppress the immune system. As a result, under conditions such as autoimmunity or inflammation, we would theoretically like to promote their development or suppressive function. In contrast, within a cancer setting, we desire to inhibit their suppressive function because they prevent normal T-cells from targeting and killing tumor cells."
In a recent paper published in the Journal of Immunology, O'Hagan demonstrated a new role for the protein p21-activated kinase 2 (Pak2) in the development of regulatory T-cells.
Using a mouse model, O'Hagan found that the absence of Pak2 in T-cells led to a significant reduction in the generation of regulatory T-cells, accompanied by the development of colitis in these mice. He also observed that Pak2 was required for the differentiation and maintenance of regulatory T-cells and was necessary to generate critical signals for their development.
The findings provide further insight into how the thymus generates regulatory T-cells and supports the idea that Pak2 is essential for this process.
"Our focus has now shifted from looking at development to looking at function. Recent work in our laboratory suggests Pak2 may play a dual role in both of these processes. By understanding where Pak2 fits in, we hope to shed some light on how regulatory T-cells control inflammatory disease. In the future, we can potentially exploit this knowledge to manipulate regulatory T-cell development or function in different disease settings," he said.
Over the next year, O'Hagan will focus on learning how Pak2 is involved in controlling regulatory T-cell function.
This work was supported by National Institutes of Health Grants 5K01AR059754 and R01 CA142928.