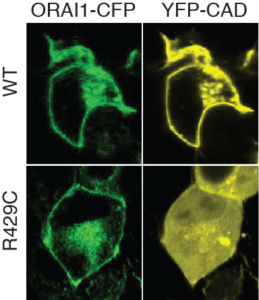 Patients with mutations in specialized calcium ion channels called calcium release-activated channels (CRAC) suffer from a severe immunodeficiency syndrome. In a paper published in the Proceedings of the National Academy of Sciences, Northwestern Medicine scientists and their collaborators described the mechanisms behind one of these mutations.
Amit Jairaman, PhD, a post-doctoral fellow and co-first author, along with Murali Prakriya, PhD, associate professor in Pharmacology, used optical approaches to understand how a mutation in one of the channel's activator proteins, STIM1, prevents CRAC channels from opening, resulting in a lack of activation of T-cells and other immune cells.
"Calcium is a very important signaling molecule that plays a major role in the activation of lymphocytes as well as many other immune cells. If cellular calcium levels aren't elevated when your lymphocytes are challenged with an external stimulus, then the person becomes unable to clear the infection," Prakriya said. "We can use the mutation to better understand how STIM1 works and the molecular rearrangements within STIM1 that lead to channel activation."
The scientists found that the mutation led to the release of a "brake" within STIM1, that induces an active conformation, causing the protein to travel across an intracellular compartment called the endoplasmic reticulum to the CRAC channel located in the plasma membrane. Yet, paradoxically, they discovered that the structural alteration caused by the mutation prevented STIM1 from binding to the channel and activating it.
Overall, these findings demonstrated how STIM1 is activated and allowed the scientists to observe changes in the configuration of the protein in the presence of the mutation.
"This research is important from a basic science perspective because it leads to a better understanding of how this important ion channel operates. These channels are an important checkpoint for immune cell activation and there are a variety of diseases like allergies or autoimmune diseases like arthritis where they may be involved in playing a key role in runaway activation of the immune system," Prakriya said.
Future studies will continue to investigate other amino acids in this region of STIM1 to get a broader understanding of the protein and its role in communicating with the CRAC channel. Prakriya's lab is also trying to develop better optical methods to observe these protein-protein interactions. He said he hopes that by understanding the channel, it can lead to the development of small molecule drugs that can help control autoimmune diseases.
"There are an increasing number of mutations being identified in the channel pathway. So if we have a better understanding of the pathway it will tell us safe ways in which we can control CRAC channel activation," Prakriya said.
The research was funded in part by a National Institutes of Health grant, NS057499, to Prakriya.