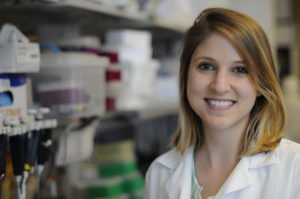 Rebecca Edwards, an MD/PhD student in Feinberg's Medical Scientist Training Program, studies how a host entry receptor may promote inflammation and disease in the eye caused by the herpes simplex virus type 1 (HSV-1).
Edwards investigates how and why this receptor, herpes virus entry mediator (HVEM), may promote inflammation in the eye during herpes simplex keratitis, which can lead to complications including scarring and vision loss. Previously, scientists in the microbiology-immunology lab where Edwards conducts her research, found HVEM was vital for infection of the eye by HSV-1.
HVEM, found on immune cells, also is an important regulator of immune responses and Edwards is examining this function of the receptor to determine how it may cause inflammation in the eye. Edwards said she suspects that HVEM has a larger role than simply serving as a viral entry receptor: she thinks its immune regulatory effects may also contribute to disease.
"The eye disease is an immuno-inflammatory disorder, where disease is not caused by the virus replicating in the eye, but really caused by the immune response to the virus," Edwards said.
Using mouse models, Edwards took a mutant herpes virus that disabled viral entry via HVEM and forced the virus to use other entry receptors. She found that the virus could still produce disease, whereas in the mouse model lacking the HVEM gene, the disease was reduced. These results suggest that HVEM has an important non-entry function in causing eye disease.
To further understand how HVEM modulates the immune system, Edwards has compared mouse models with HVEM on cells derived from bone marrow and those with HVEM expressed on all cells, except for bone marrow cells. So far, she has found evidence that that HVEM on non-bone marrow cells may be causing inflammation in the eye.
In another study currently underway, Edwards is investigating a mouse model where HVEM expression is disrupted specifically in the corneal epithelium, the front part of the cornea in the eye, and in the future she hopes to learn how to block the disease using antibodies.
"We think that expression of HVEM on the corneal epithelium is increased after infection and promotes an inflammatory environment in the eye," she said.
"I really like that I'm doing something that is relevant to human disease and has therapeutic possibilities," she said. "The eye is a great organ because you can access it easily, especially the cornea, so we were able to figure out which arm of the HVEM response is producing inflammation. I could imagine developing an eye drop treating the disease that could impact the quality of people's lives."