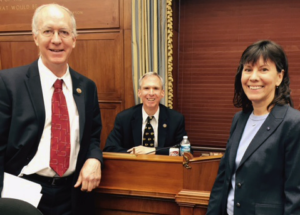 On June 16, Elizabeth McNally, MD, PhD, director of the Center for Genetic Medicine, testified before the U.S. House of Representatives Subcommittee on Research and Technology about the science and ethics of genetically engineered human DNA.
Gene-editing tools that delete, insert or replace a gene in order to repair or improve the genome have been around since the 1980s, but recent advances have made them more precise, cost-effective and accessible. New techniques, in principle, can even alter the genes that people pass down to their children.
In April, a team of Chinese scientists used a gene-editing technology called CRISPR/Cas9 in fertilized human egg cells for the first time. The study has ignited concerns about manipulating the genomes of human embryos.
A group of distinguished scientists – including those who pioneered the CRISPR/Cas9 technique – has called for a moratorium on gene editing in human embryos, and the U.S. government bans federal funding for all research on human embryos. But some believe that gene editing should be allowed in certain circumstance, under strict regulations.
U.S. Rep. Dan Lipinski, D-Ill., invited Dr. McNally to serve as a witness at the hearing, which reviewed the science behind new gene-editing technology, as well as its ethical implications and potential applications, as a first step toward implementing future regulations.
"Being a scientist and a physician who takes care of people with genetic diseases, I can envision a world where parents might not want to pass on mutations that lead to devastating disorders and a lifetime of suffering for their child," said Dr. McNally, who is also the Elizabeth J. Ward Professor of Genetic Medicine in Medicine-Cardiology and Biochemistry and Molecular Genetics.
Mutations in single genes cause diseases such as cystic fibrosis, Duchenne muscular dystrophy and sickle cell anemia. These and thousands of rare diseases that are genetic in origin could potentially be treated with gene-editing techniques, noted Dr. McNally in her testimony.
At the hearing, she discussed a framework for regulating gene editing that would permit research to improve the technology but limit its use to prevent more controversial applications.
"By tightly regulating medical procedures that could be misused, we can consider making them available to those who might need them," she said.
The Institute of Medicine plans to convene an international summit on the topic later this year.