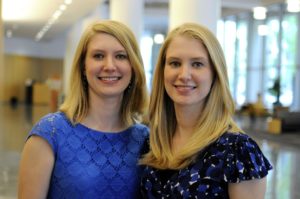 Twin sisters Adrienne Long, '15 PhD, and Lauren Smith, '15 PhD, entered Northwestern University as students in the Honors Program in Medical Education and matriculated to Feinberg after completing their undergraduate education. When both sisters became interested in scientific research, they entered into the Medical Scientist Training Program.
Both sisters recently defended their theses and will start their fourth year of medical school this summer. Long examined the use of white blood cells in targeted cancer therapies and Smith studied how to use electrical signals recorded from inside muscles to improve upper limb prosthetics.
"I think it's great to have Lauren here with me, because medical and graduate school can be stressful and it's nice to have the support system around: not only my family, but my best friend," Long said.
Smith agreed, adding, "It's been fun to watch what she's been doing and it's so different from the work that I do. I like that I get a taste of it and we can teach each other and learn from each other."
Immune System Based Therapies for Cancer 
Long spent the past four years working at the National Institutes of Health (NIH) through an NIH-Northwestern Graduate Partnership, studying the use of white blood cells in developing targeted cancer therapies. She worked with Richard Longnecker, PhD, professor in Microbiology-Immunology at Northwestern, and Crystal Mackall, MD, chief of Pediatric Oncology Branch at the National Cancer Institute (NCI). Long investigated chimeric antigen receptors (CARs), synthetic immune receptors that can be placed on the surface of white blood cells, to treat cancer.
Phase one clinical trials have demonstrated the ability of CARs on T-cells, a white blood cell involved in immune response, to decrease tumors in certain types of cancers.
In a paper published in May in Nature Medicine, Long and her co-authors studied these receptors to learn what factors could limit their effectiveness. She identified that many CARs constantly signal and induce T-cell exhaustion, a dysfunctional T-cell state that typically occurs in cancer and chronic viral infections. This research, for which Long served as first author, is also the first to image these receptors on T-cells.
"I'm trying to learn about what limits CARs, so that maybe we can overcome some of them and translate CAR therapies to other kinds of cancer," Long said.
Before starting graduate school, Long said she wanted to go into pediatrics, and that her experiences have only solidified her desire to pursue a career as a physician-scientist in pediatric oncology.
"I think having both the MD and PhD will prepare me to be that person who can bring clinically relevant questions into the lab," she said.
Neural Interfacing in Upper Limb Prostheses 
Current powered upper limb prosthetics are typically controlled using electrical signals recorded from the skin surface, and are limited to allow people to control only one prosthetic joint at a time. In the labs of Todd Kuiken, MD, PhD, professor in Physical Medicine and Rehabilitation, and Levi Hargrove, PhD, assistant professor in Physical Medicine and Rehabilitation, Smith studied how to instead use electrical signals recorded from inside the muscle to allow for simultaneous control of multiple prosthesis joints.
"If you want to replicate certain natural hand and wrist movements in the arm, then you'll want to move multiple joints at the same time," she said.
In one study, Smith found that taking thin electrodes and placing them through the skin and into multiple muscles inside the forearm allowed test subjects to move the prosthetic hand and wrist at the same time. She studied multiple ways to process intramuscular signals to control prosthetic arms, and demonstrated these methods in patients with below-elbow amputations.
Last year, Smith received a Northwestern Presidential Fellowship and she has recently been the first author on two studies, published in IEEE Transactions on Neural Systems and Rehabilitation Engineering and Journal of Neural Engineering. She plans to specialize in neurology and continue research in medical technology and the nervous system.
"Engineering and medicine are two very different fields," she said. "I'm hoping to bridge that divide. I like being the interface between two fields and having the background in both to pull them together to help patients."