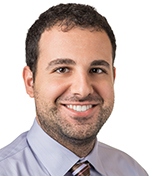 For residents, postdoctoral fellows and junior faculty, Feinberg's Master of Science in Clinical Investigation (MSCI) program provides formal training in clinical and translational research techniques. All enrollees apply this new knowledge to a mentored research project.
Danny Bega, MD, '14 GME, instructor in the Ken and Ruth Davee Department of Neurology, who completed the program this spring, studied a yoga intervention for patients with Parkinson's disease. Conventional pharmacologic treatments aim to improve motor symptoms by replenishing dopamine, but they become ineffective over time, often resulting in more motor complications and occasionally even worsening cognitive function. Yoga represents an alternative therapeutic approach.
"I believe that many neurologic disorders may be amenable to mind-body therapies, which enhance the mind's ability to affect bodily symptoms. These interventions empower patients as active participants in their healthcare in ways that pharmacologic and surgical treatments cannot," Dr. Bega said. "Despite the wide utilization of complementary and alternative medicine therapies, there is a relative paucity of evidence-based data in support of their use."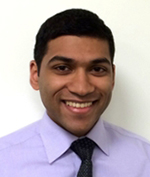 His study, funded by the Northwestern Parkinson's Disease and Movement Disorders Advisory Council, looked at the feasibility and efficacy of group yoga therapy compared to conventional resistance exercise classes for patients with the disease. He's currently analyzing the results, looking at both mobility outcomes and non-motor outcomes such as quality of life ratings.
"The MSCI program has given me a foundation in understanding clinical trial design, grant submission writing, manuscript writing, data analysis and biostatistics," said Dr. Bega, who worked with his mentor Tanya Simuni, MD, director of the Parkinson's Disease Movement Disorders Center.
Kunal Karmali, '07 MD, '14 GME, a fellow in Medicine-Cardiology and Preventive Medicine, finished the MSCI program this winter. His project explored the role of cardiovascular risk prediction in guiding blood pressure management. Risk assessments already drive prevention efforts to manage cholesterol.
"During my fellowship and through the MSCI program, I was lucky enough to work with the Blood Pressure Treatment Trialists' Collaboration at the George Institute in Sydney, Australia, to complete a meta-analysis of several clinical trials to demonstrate that the same principles of risk-based treatment apply to blood pressure management," Dr. Karmali said.
Along the way, he learned from mentors including Donald Lloyd-Jones, MD, ScM, chair of Preventive Medicine; Mark Huffman, MD, MPH, '09 GME, assistant professor in Preventive Medicine-Epidemiology and Medicine-Cardiology; and Stephen Persell, MD, MPH, associate professor in Medicine-General Internal Medicine and Geriatrics and the Center for Healthcare Studies.
Dr. Karmali credits the MSCI program with directly supporting his research goals.
"In many of my classes, the homework assignments and projects directly supported manuscripts that I submitted for publication and were incorporated into grants that I applied for," he said.
The MSCI program is supported by the Northwestern University Clinical and Translational Sciences (NUCATS) Institute through its Clinical and Translational Science Award (CTSA) from the National Institutes of Health.