(View a slideshow of the commencement celebration.)
Feeling anxious and excited, Aderonke Bamgbose Pederson, '15 MD, gathered with the 167 other members of the Class of 2015, at Chicago's Navy Pier Grand Ballroom for the 156th commencement on May 18.
"Commencement means success, for not just myself, but for everybody who helped get me here," Dr. Pederson said. "I see it as a testament that a lot can be accomplished with enough effort, and I feel encouraged to strive to do even better in the future."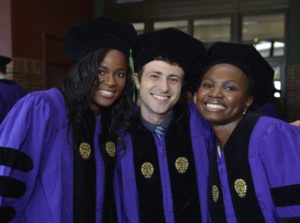 Dr. Pederson will be attending Northwestern McGaw for her residency in psychiatry.
Eric G. Neilson, MD, vice president for medical affairs and Lewis Landsberg Dean, greeted guests to the 156th commencement and introduced Morton Schapiro, president of Northwestern University.
Schapiro exhorted the graduates to think about "the challenges that you've overcome and the obstacles you've faced, think about the sacrifices you've made to become doctors and pat yourselves on the back."
He encouraged graduates to reach out to family, friends, former teachers and professors who helped and supported them on their way to becoming doctors and share their successes.
Dean Neilson reminded students about the obligations of a learned profession.
"For me, this profession also demands special obligations from its members—it is demanding of time, knowledge and empathy. A learned profession operates as a social contract between the profession and the society in which it exists," he said.
This year's commencement speaker was Barry Coller, MD, vice president for medical affairs and David Rockefeller Professor at Rockefeller University. Dr. Coller's research focuses on molecular interactions between blood cells and blood vessels with the goal of developing new therapies for thrombotic diseases such as heart attack and stroke.
He called on the graduates to be compassionate physicians and to follow the tenets of medical humanism, including respecting and protecting patients dignity, celebrating human diversity and appreciating the complexity of the modern human condition.
He concluded, "As you begin your careers today I encourage you to go forward with confidence and self-assurance now that you've received the superb education from many great physicians and scientists of the age and from a dedicated and caring institution that served the people among one of the world's great cities. You are truly well prepared; you will succeed."
John Thomas, Jr., PhD, senior associate dean for Medical Education, presented the members of the Class of 2015. As each graduate crossed the stage, they received their doctoral hood and diploma from their college mentor, a faculty mentor or a family member who is a physician.
Paul Devlin, '15 MD, was nominated by his peers to give the senior class message, "Today is a great day and we need to embrace it," Dr. Devlin said. "Cherish this time surrounded by your classmates, your family, your friends, the faculty and administration, and be thankful. When I look back, I see the fond memories that I have shared with all of you. With confidence, I can say that there is nowhere else I would have rather been or anything else I would have rather done than spend the last four years at Northwestern with all of you."
As the commencement came to an end, the graduates recited the Declaration of Geneva: Physician's Creed, the same oath they took as first-year medical students.
Thirty of this year's graduates were inducted to the medical honor society, Alpha Omega Alpha, and 13 graduates received Magna Cum Laude in Scientia Experimentali and six graduates received Cum Laude in Scientia Experimentali. Nine graduates received Summa Cum Laude, nine graduates received Magna Cum Laude and 10 graduates received Cum Laude.
Students graduating with joint degrees included 13 graduates earning a Master's Degree in Public Health, four graduates receiving a Master's Degree in Medical Humanities and Bioethics and 13 completing a doctorate in the Medical Scientist Training Program. The Class of 2015 also had two graduates with joint degrees in business administration and one graduate with a joint degree in healthcare quality and patient safety.
"Commencement marks the end of a long journey and means a lot to my friends and family who have supported that journey," said Mark Maroongroge, '15 MD. "It's a neat moment to be doctor, but at the same time I realize I still have much to learn and know that I am directly responsible for patients' lives."
Dr. Maroongroge will start a residency at UCLA Medical Center in radiology.
"I am happy to spend the day with my family, friends and classmates that have helped get me to this point," said Annsa Huang, '15 MD, who will start her residency in internal medicine at the University of California San Francisco. "It is a bittersweet moment to think about all the memories that we've created here at Northwestern over the past couple of years, but it is also very exciting to celebrate the next phase of our lives."