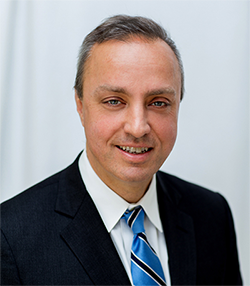 Andrew Parsa, MD, PhD, a groundbreaking neurosurgeon and scientist whose work provided landmark insights on brain tumor immunology, passed away suddenly yesterday. He was 48.
Dr. Parsa, the Michael J. Marchese Professor and chair of the departments of Neurological Surgery at Feinberg and Northwestern Memorial Hospital, was internationally renowned for his specialization in complex tumors of the brain and spine. He was also a well-respected leader, colleague and educator.
"We are all shocked and saddened by this great loss. Andy was a distinguished scholar, an extraordinarily talented surgeon and a dedicated mentor to students and faculty alike," Eric G. Neilson, MD, vice president for Medical Affairs and Lewis Landsberg Dean. "He was a pioneering neurosurgeon and an innovative investigator who pushed the boundaries of scientific understanding. His presence will be sorely missed within the Northwestern Medicine community and across the country."
Many research accomplishments marked Dr. Parsa's career, including the identification of a novel link between oncogenesis and immune-resistance in brain tumors. He was principal investigator of the largest randomized brain tumor vaccine trial to be funded by the National Cancer Institute. Last July, his team released the study's phase 2 results, showing that an experimental cancer vaccine helps patients with glioblastoma multiforme live longer. He was also leading a trial testing a new adaptive hybrid surgery technology to safely remove rare brain tumors.
Known for his personable management style and indefatigable work ethic, Dr. Parsa performed about 300 surgeries each year, while also conducting trials and training students and residents.
"Andy's dedication to his patients made him a role model not just among physicians but for all of us who were privileged to have worked with him," said Dean M. Harrison, President and CEO of Northwestern Memorial HealthCare. "Though his legacy will continue to inspire us for many years, his passing has been felt deeply across Northwestern Medicine."
Born in Brooklyn, NY, Dr. Parsa earned his undergraduate degree in molecular biophysics and biochemistry at Yale University. In 1996, he completed medical and graduate degrees at Downstate Medical Center in Brooklyn, where he initiated one of the first vaccine studies for brain tumor patients. He finished an internship and residency in neurological surgery at Columbia University in 2002.
Prior to joining the Feinberg faculty in 2013, Dr. Parsa spent more than a decade at the University of California San Francisco, rising to professor and vice chair of the Department of Neurological Surgery. There, he helped pioneer an approach of adaptive hybrid surgery for skull base tumors, and was also recognized for his work in education, winning multiple awards, including the Medical School Mentor of the Year.
In addition to his roles in Neurological Surgery, Dr. Parsa was a professor in Feinberg's Ken and Ruth Davee Department of Neurology and co-Leader of the Translational Research in Solid Tumors Program at the Robert H. Lurie Comprehensive Cancer Center of Northwestern University. He published more than 300 peer-reviewed articles, reviews, chapters and monographs during his career.
Dr. Parsa is survived by his wife Charlotte Shum, MD, associate professor in Orthopaedic Surgery, and their three children, Julia, Micheline and Ismail.
A memorial service for Dr. Parsa will be held on Friday, April 17, from 11:30 to 12:30, for the Northwestern Medicine community at Northwestern Memorial Hospital, in the Feinberg Pavilion Conference Room A, third floor.