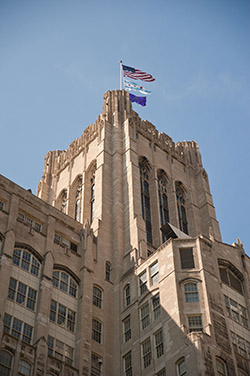 IPHAM Announces New Primary Care Innovation Center
The Institute for Public Health and Medicine has established a new center, the Center for Primary Care Innovation (CPCI), directed by Stephen Persell, MD, MPH, associate professor in Medicine-General Internal Medicine and Geriatrics, to identify and execute initiatives to improve primary care research, education and clinical care.
"Primary care plays a crucial role in the supporting the health and wellbeing of individuals and populations," Dr. Persell said. "The CPCI aims to support the career development of the next generation of primary care physicians who train at Feinberg and to promote cutting-edge research that seeks to answer key questions about how medicine should be practiced."
The center's research will focus on health communication, reducing healthcare disparities, changing clinician behavior and improving medication management. The center's educational efforts will highlight new opportunities in primary care careers for medical students.
The center will also work with Northwestern Medicine hospital and clinic partners to implement innovative practices and support evaluations of clinical programs and strategies to improve care under new payment models.
New Specialty Program in Neurological Surgery
The Department of Neurological Surgery is offering a new specialty: the Chiari and Craniovertebral Junction program, which represents a collaborative effort between neurology, radiology and sleep medicine.
"This is the first program in the Midwest and one of the very few programs in North America that is dedicated to caring for adult and pediatric patients with chiari and craniovertebral junction disorders," said program co-director Nader S. Dahdaleh, MD, assistant professor in Neurological Surgery. "The primary goal of the program is to provide state of the art medical and surgical care for patients suffering from disorders that affect the craniovertebral junction."
The craniovertebral junction (CVJ), also known as the upper cervical spine represents a transitional area between the brain and the spine and because of its unique structure and function, managing disorders that affect this junction is challenging.
"This program represents the fusion between two disciplines, skull base and spine," he said. "Providers with expertise in skull base surgery and complex spinal surgery from the Department of Neurological Surgery in collaboration with the Departments of Neurology and Otolaryngology represent a collaborative multidisciplinary effort to efficiently and safely treat any disorder that affects this region."
According to Dr. Dahdaleh, the disorders that affect this area can be encountered in infancy, childhood, adolescence and adulthood. These can be congenital, neoplastic (tumors), inflammatory, traumatic and degenerative.
Through Feinberg's affiliated hospitals and care sites, residents and fellows have the opportunity to work with faculty on cases of congenital disorders, treatment of inflammatory conditions such as rheumatoid arthritis and surgical intervention for trauma.
Global Health Certificate For Residents and Fellows 
McGaw Graduate Medical Center of Northwestern University is now offering a competency-based global health certificate program to provide residents and fellows with training in clinical care delivery in resource-limited settings worldwide.
"As an educator, global health provides an excellent educational framework to teach trainees about health inequities, their determinants, the globalization of health and disease as well as cultural competency which are all crucial to modern medical education," said Ashti Doobay-Persaud, MD, assistant director of Global Health Graduate Education and curriculum director for the Masters of Science in Global Health.
The two-year certificate program, called the McGaw Global Health Clinical Scholars Program, consists of lectures, a field experience and a scholarly project under the guidance of a global health mentor. The program was established in response to the interest in and participation of residents in global health rotations in various departments.
"Our residents are clamoring for this kind of training and we wanted to provide them with guidance and want them to train in socially responsible, high quality global health experiences," she said. "Some will make this a career, but hopefully they all will learn skills that will help them take better care of patients and promote health equity for all."