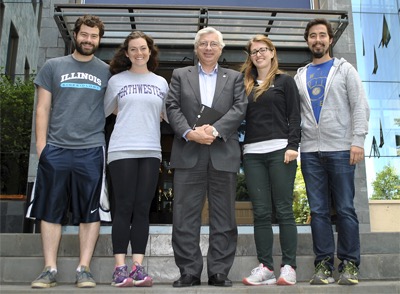 The first time Kyle Denlinger traveled outside of the United States, it was for a six-week clinical rotation focused on respiratory therapy at the University of San Sebastian in Chile with three of his third-year doctor of physical therapy (DPT) classmates. The program is part of a partnership between the two universities that was created in 2012, and Denlinger's group was the first group of Feinberg students to participate. He said he decided to take the opportunity to learn about a different culture and develop new skills.
"This experience enhanced my cardiopulmonary physical therapy skill set, improved my flexibility, communication and problem solving skills, and provided me with my first experience out of the country working with [people who speak]Spanish," Denlinger said. "Experiencing this culture and improving my Spanish skills will improve my ability to work with [future patients who speak]Spanish. My new pulmonary PT skills will allow me to see patients through a new lens, improve my care of patients with pulmonary issues, and make me a better therapist."
In Chile unlike in the U.S., physical therapists, or kinesiologos, also take on the role of respiratory therapists. Physicians rely on physical therapists for tasks such as ventilator management, weaning from oxygen therapy and general respiratory care, Denlinger explained.
"The best part of the trip was sharing the experience with the other Feinberg DPT students," Denlinger said. "We were all in a foreign country, undergoing the same experience, sharing the same obstacles and learning together. Working in a team, sometimes in groups of two or four, really enhanced my experience and helped me to learn to work in a team and bounce ideas off of one another."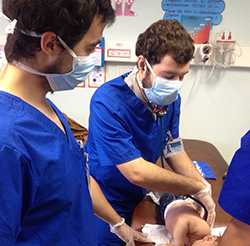 Students spent part of their days in a hospital intensive care unit (ICU) and the rest of each day in classes or labs at the university. While with patients in the ICU, students worked with ventilators, chest physical therapy and other activities, including range of motion/joint flexibility exercises.
While in Chile, DPT students had the opportunity to work with patients recovering from conditions such as respiratory dysfunction due to chronic obstructive pulmonary disease, stroke, neuromuscular disease, or sepsis. The students also had opportunities outside of the hospital, including working at a home for children with chronic respiratory problems.
"By the end of the trip we felt comfortable working with people with [respiratory conditions]and seeing x-rays and CAT scans and being able to determine what was going on and knowing what techniques to use," said third-year DPT student Alyssa Hartley.
Hartley said that despite having taken Spanish courses before the trip, struggling with the language barrier allowed her to improve her communication skills.
"It was extremely humbling to be in an environment where I'm not fluent in the language and not always able to understand the patients and my instructor. Once we got our confidence, our listening and speaking skills improved," she said.
The DPT program will now explore the feasibility of sending another group of students for clinical education experiences next fall. The program will also investigate the possibility of hosting a group of physical therapy students and/or faculty members from Chile this year.