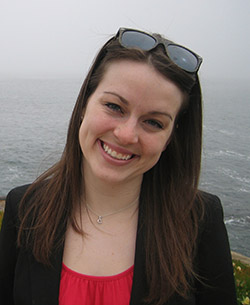 Northwestern Medicine scientists have found that a transcription factor protein called Ets homologous factor (EHF) may be critical for normal respiratory function, by regulating pathways in epithelial cells that are responsible for wound repair and maintaining the lung epithelium's barrier function.
Disruption of epithelial tissue in the lungs is associated with respiratory diseases including cystic fibrosis, asthma and chronic obstructive pulmonary disease.
"We found that EHF regulates pathways that are important for maintenance of the barrier between the internal and external environment in the lungs and repair following damage," said Sara Fossum, a third-year graduate student in the Medical Scientist Training Program.
Fossum is the lead author of the research recently published in Nucleic Acids Research, and works in the lab of Ann Harris, PhD, professor in Pediatrics-Human Molecular Genetics. Harris is also director of the Human Molecular Genetics Program at Stanley Manne Children's Research Institute, the research arm of the Ann & Robert H. Lurie Children's Hospital of Chicago.
Working with Harris team members Michael Mutolo and Rui Yang, a student in the Driskill Graduate Program in Life Sciences, Fossum used deep-sequencing to map the locations where EHF binds to DNA genome-wide. Many binding sites were close to genes involved in cell-to-cell adhesion and cell junctions, suggesting that EHF has an important role in maintaining the epithelial barrier.
Fossum also looked at EHF in lung cancer cells: by targeting EHF and depleting it in cells, she identified genes with altered expression. She found that genes that had changed were involved in epithelial differentiation and the inflammatory response.
To further study its role in wound healing, Fossum depleted EHF in cells, grew them on a dish and scratched the cell lawn. She then observed the cells' activity when closing the wound, and found that wounds closed at a slower rate without EHF.
Investigating how EHF affects the function of the epithelium as a barrier, Mutolo also found that when EHF is depleted from cells, there is a decrease in permeability across the epithelium. These results suggest that EHF regulates gene pathways that play an important role in lung epithelial response to injury, including maintaining barrier function, inflammation and wound healing.
In future research, Fossum plans to investigate other transcription factors that work with EHF and study the role of the transcription factor in other lung cell types.
"We still have a lot to learn, but there is a lot of potential for targeted therapeutics. These studies are a very useful step towards designing drugs of the future," Fossum said.
This work is funded by NHLBI  R01HL117843 (AH) and NIGMS grant 2T32GM008061 (SF).