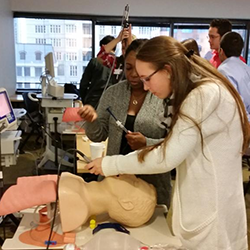 Medical students from Northwestern University Feinberg School of Medicine and across the country attended the American Medical Student Association (AMSA) Training Ground conference, hosted at Feinberg on November 22 and 23. This year's events were united under the theme of "Lead the Change in the Culture of Medicine."
"I'm very excited about how the whole conference came together," said second-year medical student Caroline Dong, president of Feinberg's AMSA chapter. "We hit a lot of different layers of the theme, from medical student life to how to be an advocate for your patients."
Feinberg's AMSA chapter worked with the national organization to plan and execute the conference, helping brainstorm speakers, handling logistical details and volunteering during the weekend's events.
Dong said the conference complemented the education students already receive on the "non-science" aspects of a career in medicine.
"At Feinberg, we talk a lot about ethics, public health, policy and even the economics of medicine. That's something we've conveyed to the people who come to this conference," she said. "We're going to be the leaders in medicine in the future, so there is a lot to take away by talking about these things."
At a Saturday lecture, Paloma Toledo, '07, '08 GME, '03 MD, '10 MPH, assistant professor in Anesthesiology and the Center for Healthcare Studies, urged students to consider unconscious biases as they prepare for their future careers.
"In medicine, we learn to problem solve algorithmically. If you see a constellation of symptoms, you create your differential diagnosis and use probabilities to come to the best diagnosis and treatment," she said before the program. "However, our decisions are shaped by our past experiences, and in a time-pressured healthcare system, we create shortcuts to maximize efficiency in our medical decision-making."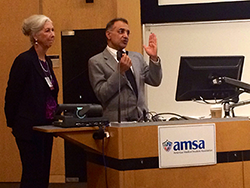 Dr. Toledo explained that it is important for healthcare providers to realize they may hold implicit attitudes and stereotypes about different groups, which may unconsciously affect their decision-making.
"Awareness of these biases is especially important in the era of personalized medicine to ensure we are not contributing to disparities in healthcare," she said.
Later, second-year medical student Samantha Estevez, president of the Queers and Allies group at Feinberg, participated in a panel discussion about creating safe and supportive environments in medical education to help students among gender and sexual minorities prosper.
"All medical schools should strive to be accepting spaces for any individual who may walk through their doors," Estevez said before the program. "Homosexuality is no longer pathologized by medicine. Medical schools and medicine should continue this progressive line of thought in their curriculums, policies and practices."
She explained some of the steps the Feinberg community has taken to foster an inclusive environment, such as gender and sexuality curriculum development and resources like the Office of Diversity's Safe Space Training Program.
"Whether it is a trans patient speaking to a class about the struggles they have faced in gaining access to care or a week-long module on HIV in conjunction with World AIDS Day, Feinberg is continually working to make itself a safe space for its students," she said. "This also has the inherent benefit of providing essential knowledge to all students so they can be well-informed physicians in the future."