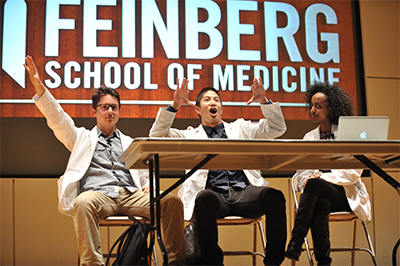 Spoofing the film Freaky Friday, students satirized the generation gap between medical students and established doctors at the 36th annual student sketch comedy show In Vivo, held November 14, which also included music and dance routines and raised money for a classmate who recently passed away.
"We chose a story that everyone knows and has seen so we can poke fun of the stereotypes in both generations of current and future physicians," Johnny Hourmozdi, one of the producers and second-year medical student, said. "What people should get from the show is laughter and it is a chance to get away from the grind of medical school."
This year's show, "Freaky Feinberg," followed first-year medical student Andrew Coleman (Michael Colacci, second-year medical student) and his father Dr. Ted Coleman (Blake Platt, second-year medical student), a successful urologist and distinguished faculty member, who switch bodies after attending an energy therapy session at an Integrative Medicine conference.
In the skit, only after learning how to work together and realizing that they both want to dedicate their lives towards making a difference through medicine, do father and son switch back.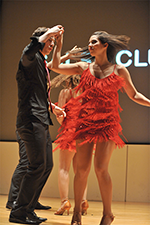 The cast also featured second-year students Samaa Kemal, Dennis Liu, Nate Alhalel and Chase Anderson and first-year students Matt Sullivan, Charlie Cogan, Hogan Randall, Beverly Aiyanyor, Jana Shapiro, Sam Bowers and Taylor Sutcliffe.
In addition to the main story, the evening featured contemporary song performances by the coed a cappella group, DOCappella. The Dance Interest Group showcased a medley of routines from hip-hop to bhangra and later the Salsa Club showcased Latin dance moves on-stage. This year's In Vivo also parodied Meghan Trainor's music video "All About that Bass" as "All About that Case."
Other producers of In Vivo included second-year students Parul Kathuria, Kasey Coyne and KJ Blair. They were supported by assistant producers and first-year students Josh Stein, Kyle Yoo, Tanya Bhardwaj and Maria Aristova.
Proceeds from this year's show went to Stay Out of the Sun Foundation, a non-profit organization dedicated to raising awareness about melanoma, in honor of Claire Richards, a first-year medical student who passed away this summer after a recurrence of melanoma last October. The event raised about $4000.
"This year the charity we are supporting is special, we chose a charity that she represented and felt strongly about, and we hope people are supportive of our cause," Kathuria said.