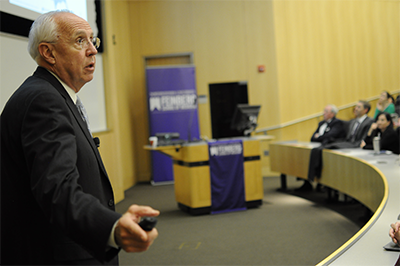 Darrell G. Kirch, MD, president and chief executive officer of the Association of American Medical Colleges, delivered an address on November 11 outlining the challenges facing academic medical centers and exploring how academic medicine can lead change across medical education, research and patient care.
"Teaching hospitals like Northwestern only represent five percent of U.S. hospitals, [but]provide 23 percent of all clinical care and 37 percent of hospital charity care. Teaching hospitals provide critical services often not available elsewhere," he said. "We are central, even though we are facing uncertainty, we are essential to solving health care problems."
He explored current issues in health care, ranging from from the new MCAT and the GME bottleneck, to funding difficulties and the rate of faculty burnout.  Dr. Kirch stressed the need for transformation in the nation's health care system and laid out critical factors required for success in a shifting health system care, including culture change and leadership. He suggested replacing the current culture of medicine with one that is more collaborative, team-based and patient-centered.
"Building a new culture will require a future-oriented model of leadership," he said. "A leader is somebody whose key skill is bringing out the genius of the people around you."
Dr. Kirch also discussed redesigning medical education: shifting away from time in the lecture hall and memorizing facts towards the assessment of medical students and residents on core activities and including social and behavioral education starting in the premedical years.
"The shift that is occurring in medical education is away from time in the seat and towards competencies and assessing them," Dr. Kirch said.
Lastly, he suggested drawing on resilience as a solution to increasing faculty burn-out rates.
"I think burnout happens when we forget why we came to health care – we lose mission and become isolated," he said. "With connectedness between medical departments and a sense of mission, we can rebuild resilience."
Slides from Dr. Kirch's presentation are available from the Department of Medical Education.