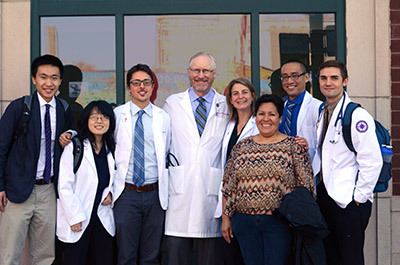 Michael Colacci, a second-year medical student, was surprised when he saw a former participant stop by the Diabetes Empowerment Center in Humboldt Park on Saturday as part of Keep Your Heart Healthy, a program to screen Chicago residents for cardiovascular health risks. The participant updated Colacci about his progress over the past week after having been encouraged to quit smoking during last week's screening.
"It was great that he came back," said Colacci. "He had been able to cut back on smoking. We don't typically get to see if our suggestions have an impact and it was nice that he came back to check in."
One of two Keep Your Heart Healthy sites, the center offers free cardiovascular screenings every Saturday with a faculty member overseeing a team of medical and physician assistant students. Since the program started in August 2013, Feinberg medical students and faculty have counseled more than 2,500 participants, resulting in 300 referrals of individuals at high risk for cardiovascular disease. About a quarter of first- and half of the second-year medical students at Feinberg volunteer in the program.
"In the 15 to 20 minutes that you meet with each participant you have the chance to maybe change their life with something that is more lasting than a prescription," said Richard Greendyk, a second-year medical student. "I think it is a really empowering experience for the students and participants."
For Greendyk, volunteering with Keep Your Heart Healthy combined his passions for nutrition and exercise, and working with a predominately Latino population in Humboldt Park neighborhood, which gave him the opportunity to practice his Spanish language skills.
"I've worked with a couple of participants who really struggled with their weight. By listening to them, having them write down some goals and formulating a plan, [we]gave them the confidence to make those changes. They leave with a light in their eyes, and seeing that change in those 15 minutes is incredible," said Greendyk.
Nearly four miles south of the Diabetes Empowerment Center, students volunteer at Family Focus in North Lawndale.
Russell Huang, a second-year medical student, remembers his first Keep Your Heart Healthy experience at this community center during his first-year of medical school.
"I had the best one-on-one patient experience I've ever had," he said. "There was a men's group that came from a work release program from prison. I felt like I had hit the jackpot of people wanting to make a change in their life.  Many of them wanted to quit smoking, eat better and exercise more. I remember leaving that night thinking 'wow.' I was so inspired that I could help someone with the little knowledge that I had begun to attain in my first-year of medical school."
At the screenings, Huang helps to set up the stations, take blood pressure readings and sometimes gives guidance to first-year students.
"The program refreshed me on why I want to be in medical school. It has given me an added dimension to my education here after spending a lot of time studying," Huang said. "Getting people excited about making changes is something that I really want to do. It allows me to make real meaningful connections with people."
The program is funded by the GE Foundation and in collaboration with the Chicago Department of Public Health.