Instead of completing a traditional primary care rotation in the third year of medical school, students have the option to participate in the Education Centered Medical Home (ECMH), a program for students to work with the same doctor and group of patients for all four years of medical school. This new model launched with the renewed medical school curriculum in 2012 with an emphasis on hands-on learning experiences and early clinical exposure.
"My main goal is to make sure every student graduates understanding what continuity of care feels like and what primary care looks like," said Daniel Evans, MD, director of ECMH and assistant professor in Medicine-General Internal Medicine and Geriatrics. "In the old curriculum almost all of the students graduated without seeing a patient back for a second visit. The critical piece of medicine is the follow through, to make sure the intervention you started gets better or diet counseling you gave actually worked."
Each clinic has 16 students, where each week eight students staff the clinic with their preceptor and work collaboratively to care for high-risk patients. The clinics serve underserved populations throughout the city of Chicago.
An Afternoon in Clinic
On a typical afternoon in the Erie Family Health clinic in the Humboldt Park neighborhood of Chicago, Christian Bengtson, a third-year medical student, met with his peers and preceptor to go over patient histories. First- and second-year students then paired off with upperclassmen to help guide them through the patient visit.
"One of the coolest moments was remembering what it was like being a first-year student and being mentored and now being in a mentorship role. I really like it, and I think it is one of the advantages of this program," said Bengtson.
Bengtson decided to participate in the program because of his interest in community medicine and wanted to see team medicine in action.
"I think the neatest thing about this program is starting from the first year, I could see how different elements we learn in class start connecting with the patient experience," he said. "It feels like we have more time to understand what is going on with our patients."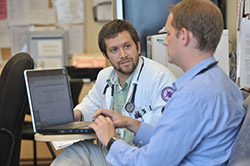 The program also allows students to practice clinical medicine skills and act as an advocate for patients.
Bengtson remembers in one case, he spoke with a diabetic patient over the course of an hour, a conversation that began by addressing her health conditions, then led her to a discussion of the patient's social and emotional circumstances. By the end of the hour, the patient felt prepared to manage her disease.
"The best part of the program is spending extra time with a patient and with the little medical knowledge that we have, I made an impact from sitting down and talking with a patient," said Bengtson. "Now when I meet with other diabetic patients, I am empathetic thinking back to that patient and knowing that there might be more going on than the medical condition."
The experience has also exposed him to the struggles patients from diverse socioeconomic backgrounds often face and has reinforced Bengtson's desire to go into family practice.
"It has shown why there is a big need for primary care and in medical school I feel like we don't really see the role of a primary care physician because we have so many specialists that teach our classes throughout our first two years," he said.
Bridging the Gap
The ECMH pilot program launched with four clinical sites and 50 students in 2011 and has since grown to 18 sites and more than 300 students.
"I hope the program will continue to grow. Next year I hope to have more support to measure student outcomes," said Dr. Evans. "Are they performing better in teamwork skills, are they scoring better in professionalism, are they having a better experience becoming physicians?"
Frank Castillo, MD, a preceptor for Erie Family Health ECMH, thinks the program bridges the gap in the traditional medical school model of the first two years in the classroom and last two in the clinic.
"ECMH helps to build that bridge by students having clinical exposure in their first two years," said Dr. Castillo, assistant professor in Family and Community Medicine. "The early exposure gives them hooks, upon which they can hang all the information they are trying to learn and that gives them a more logical understanding of why things are taught."
Dr. Castillo also believes the ECMH model is a promising direction for medical education.
"If all of the students' medical training is in the hospital, it doesn't prepare them for what life is like in an outpatient clinic. This experience proves valuable to provide them with more training experience and is a more reflective reality of their future world."