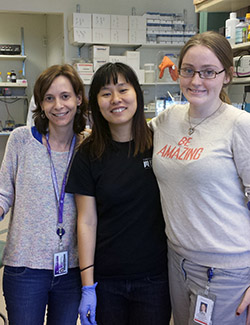 Elizabeth Fang, a second-year medical student, spent four weeks this summer developing a fish model for the genetic disease Shwachman-Diamond syndrome, part of a four-year research project called the Area of Scholarly Concentration (AOSC).
Patients who have this disorder have up to a 30 percent risk of developing myelodysplastic syndromes, which include acute myeloid leukemia. Working in the lab of Jacek Topczewski, PhD, research associate professor in Pediatrics-Developmental Biology, and collaborating with the lab of Seth Corey, MD, MPH, professor in Pediatrics-Hematology, Oncology and Stem Cell Transplantation, Fang's goal is to create the fish model for the disease.
"If we create a fish model of this disease, we can better understand and study the biology of cancer. In the future, these models can be used to more easily screen for novel cancer therapeutic agents," Fang said.
A new program that was introduced along the redesigned Feinberg medical school curriculum in 2012, AOSC introduces students to hypothesis-driven research and encourages students to develop mentored relationships with medical school faculty. Fang and her peers will work on their projects – designed to complement traditional medical education –throughout their four years. The mentored project will culminate with the submission of a thesis at the end of their fourth year. All medical students will complete this program with the exception of students enrolled in a dual degree program.
"I have a curiosity for basic science and understanding why things work a certain way," she said. "I enjoy being in the lab and sometimes in medicine we focus on the clinical aspect of it so it reinforces the importance of basic science and how it is going to eventually apply to our clinical practice."
Projects extend beyond the basic sciences and include clinical investigation, translational medicine, global health, medical humanities and the medical social sciences.
Second year medical student Andrew Choi chose a clinical research project working with Benjamin Freed, MD, assistant professor in Medicine-Cardiology, in the Echocardiography lab. His project used new software to evaluate the right ventricle in the heart and allowed him to map how well the ventricle contracts and relaxes.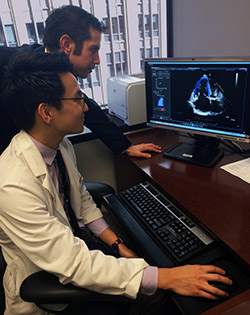 "One thing that surprised me was how much I enjoyed the data gathering and data analysis," Choi said. "I spent a couple of hours every day in the library doing statistical analysis, which I didn't think I'd like, but it was nice to see tangible results and have a clinical significance to the numbers. I learned research is a long process from start to finish, but every step of it is just as important as other steps and it requires attention at every single point."
Even though Choi had an interest in cardiology before entering medical school, he decided on his project after his initial meeting with his mentor.
"Having someone who is enthusiastic about my involvement in their research and invested in my education has been great. This project gives me an opportunity to do something that contributes to medical knowledge. Because of that, this experience has shaped my perspective of cardiology. I came in thinking that I'd want to pursue it and I'm a little more sure now," he said.
Deborah J. Gaebler-Spira, MD, professor in Physical Medicine and Rehabilitation and Pediatrics, enjoys the opportunity to mentor two students for their AOSC. One of her students works on a project investigating muscle imbalance in pediatric disability and the other studies the effects of bullying in children with disabilities.
"Mentoring gives me contact with the next generation of physicians," she said. "The quality of the students that come through energizes me and keeps me enthusiastic about medicine. It reinforces the spirit of inquiry and education."
The most important aspect of her job as a mentor is helping student chose a project that is consistent with their interests and something they can accomplish. She also encourages students to present their work at meetings and network at a national level.
"The AOSC is important because it gives students an appreciation of the methodology behind research," Dr. Gaebler-Spira said. "If they decide to pursue research then it provides them with credibility and a nice introduction in how to set up research studies and projects."