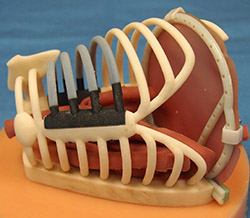 Using 3-D printing technology, Katherine Barsness, MD, '11 MS, associate professor in Surgery and Medical Education, may have solved a common catch-22 for pediatric surgeons: To deftly perform tricky surgical procedures in a newborn chest cavity no bigger than an egg, they need practice with the real thing.
"The overwhelming majority of surgeons just train in the operating room," said Dr. Barsness. "Everybody has a learning curve when they're developing new skills, a time when they make mistakes while trying to master a certain technique. Unfortunately, a learning curve places patients at risk."
To prevent consequential errors from occurring on real patients, Dr. Barsness has created life-sized, reusable models of a newborn's ribcage in collaboration with engineers from Feinberg's Innovations Lab and the McCormick School of Engineering and Applied Sciences. With the models, training pediatric surgeons receive uniquely authentic simulation-based education.
McCormick's Segal Design Institute produces the models with 3-D printers, which turn digital files into three-dimensional solid objects one very thin layer of a material at a time. The resulting plastic ribcages become anatomically correct replicas of an infant's chest cavity when covered with a synthetic silicone skin and filled with tissue.
Through the Northwestern Simulation training facility, students use the models to practice performing complicated minimally invasive procedures to repair rare birth defects.
"It's invaluable to practice on something that looks this realistic. It's an experience that will only benefit my patients in the future," said Matthew Landman, a pediatric surgery fellow at Children's Hospital Colorado.
He was one of 38 visiting second-year fellows from the United States and Canada to attend a gold standard pediatric surgical training hosted by Dr. Barsness on September 12 through the Accreditation Council for Graduate Medical Education.
Landman and other fellows said they had never worked with 3-D printed models before, and they participate in the course to learn techniques through lifelike simulations that they don't have at their own institutions. Dr. Barsness also leads training courses throughout the year for practicing surgeons.
For beginning surgeons, the Innovations Lab prints plaster molds to make silicone organs that are placed in the ribcage. More advanced surgeons work with fetal bovine tissue which would normally be thrown out by commercial slaughterhouses. The bovine tissue is surgically configured to mimic neonatal congenital defects such as tracheoesophageal fistula, an abnormal connection between the windpipe and the stomach. These conditions are so rare that surgeons may encounter them only a few times a year and, potentially, fall out of practice.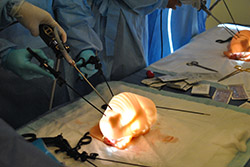 Dr. Barsness believes that models like hers will eventually become the norm for training surgeons, instead of having trainees practice in the operating room or work on live animals. However, she points out several challenges that prevent that future from becoming an immediate reality.
"First is dedicated time for education outside the operating room. We need programs to let their trainees leave clinical duties for dedicated simulation-based education," she said. "Second, there are very few pediatric surgeons in the world who are trained to conduct this type of education."
Funding is another issue. Though materials for printing the ribcage cost only about $200, the printers themselves are a significant investment, as are the resources to support it. But she said acceptance of the models – proving their value – is the biggest struggle right now.
"That acceptance is predicated on data. So our next step is to show that using the simulation models really does improve physicians' performances in the operating room," said Dr. Barsness.
Her lab has already published the promising results of initial studies, through papers in the Journal of Pediatric Surgery and the Journal of Laparoendoscopic & Advanced Surgical Techniques, among others.
The work is funded by Jeffrey C. Maling and Rebecca L. Johnston and the Children's Research Fund Junior Board of the Stanley Manne Children's Research Institute.