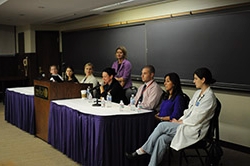 Residents and faculty members shared career advice and guidance to medical students on September 12 at Northwestern University Feinberg School of Medicine's first annual Exploring Residencies career fair.
Kicking off the event, Sandra Sanguino, MD, associate dean for Student Programs and Career Development, moderated a panel of seven residents from several departments and across different years. The panelists shared how they chose their specialty and bestowed advice to medical students on the decision process.
"I was willing to stay later and work harder, and was happier when I came home when I rotated in orthopaedics than anything else, so it has to be something that you want to do every day," said Lucas Buchler, MD, an orthopaedic surgery resident.
The panel also included Lora Alkhawam, '12 MD, emergency medicine resident, Safa Rahmani, '11 MD, ophthalmology resident, Diana Bowen, MD, urology resident, Anna Strohl, MD, obstetrics and gynecology resident, Lara Rosenbaum, MD, dermatology resident, and Carrie Richardson, '12 MD, internal medicine resident.
They encouraged students to take advantage of shadowing opportunities and to speak with as many people as possible about their paths.
"Talk to different people and don't be afraid to talk to residents and attendings," said Dr. Strohl. "We've all been in your shoes and we can share our stories and paths, so don't be afraid to reach out to us."
Suzanne Oskouie, a first-year medical student, enjoyed listening to the advice from the panel.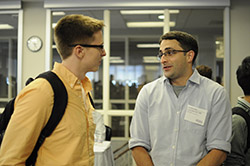 "One piece of advice that stuck with me came from the residents who said it's important not to choose a specialty for the coolest parts – the really exciting and interesting cases come up in all specialties and they don't necessarily come up that often. It's about finding something where you'll be interested and engaged doing what you're doing even for the so-called 'mundane' cases," she said. "I was so pleased to see how enthusiastic and in love each of these residents and physicians were with their chosen specialties.  It's definitely something that gives you hope that one day, you too will find something that gets you this excited to do your job."
Following the panel, students met with residents representing 23 specialties from family medicine and neurology to emergency medicine and vascular surgery. Faculty members Nicholas Volpe, MD, chair of Ophthalmology, Terrance Peabody, MD, chair of Orthopaedic Surgery, Deborah Clements, MD, chair of Family and Community Medicine, and Andrew Parsa, MD, PhD, chair of Neurological Surgery, also talked with students.
Kevin Wang, second-year medical student, said, "Today was a good opportunity to be exposed to every specialty and a way to put a face behind specialties. It is nice to get a chance to talk one-on-one with residents and get an unscripted response on why they chose their specialties."
For Courtney Morgan, MD, a vascular surgery resident, it was important to represent her specialty during the career fair.
"I think it's hard to know where you want to go and a lot of the time people go where they get exposed to," said Dr. Morgan. "I chose vascular surgery because I was exposed to it early on. It's impossible to know that you'll like a specialty unless you are exposed to it so it is important to learn about different fields and ask questions. After speaking with me, I hope they get an idea of what my field is like and that they feel inspired."