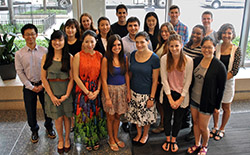 This fall, new PhD students are arriving on the Chicago campus to join the Driskill Graduate Program in the Life Sciences (DGP), Northwestern University Interdepartmental Neuroscience Program (NUIN), Medical Scientist Training Program (MSTP), Clinical Psychiatry PhD program, Doctor of Physical Therapy/PhD program and Health Sciences Integrated PhD (HSIP) Program.
DGP welcomes 18 new PhD students. This group includes individuals with undergraduate degrees from schools as close as the Midwest, and as far as Russia, Korea and China. These students will complete courses and lab rotations during the first year, which allow them to explore several types of research before selecting a dissertation lab and project.
The new NUIN students hail from Brazil, Taiwan, Korea and across the United States. The entering class comprises 20 PhD candidates. They will complete coursework and research rotations in at least three different laboratories before committing to a single lab to conduct thesis research.
The MSTP welcomes 13 new students who will earn both their MD and PhD degree at Northwestern. They will complete two years of medical school before starting their doctoral program in a lab. Once they earn their PhD, they will return to medical school to complete their Doctor of Medicine degree. This year's entering class has earned undergraduate degrees from institutions that include Princeton University, Stanford University, Johns Hopkins University and Massachusetts Institute of Technology.
Nine new students are beginning the Clinical Psychology PhD program. They will spend six years at Feinberg for training in the clinical practice and science of psychology, along with specific training needed for careers as clinical psychologists conducting research and/or clinical work in academic medical centers or other health care settings. Students in this year's class come from as far as Tokyo and India to Michigan and California.
The DPT-PhD(Eng) program welcomed one new student who will earn both his Doctor of Physical Therapy (DPT) degree and PhD in biomedical engineering at Northwestern. He will complete two years of engineering school before starting the DPT program at Feinberg. Once he earns his DPT, he will return to engineering to complete the PhD degree. This year's entering student earned his undergraduate degree from Case Western Reserve University. Four dual degree students started the DPT program this year.
Finally, four new students join the HSIP program to become its third entering class. Founded in 2012 and unique to Northwestern, HSIP trains students in processes and methodologies in clinical and population sciences through the Institute for Public Health and Medicine. The class of 2013 comes from Chicago, Wisconsin, Massachusetts and Nigeria, and all have previously earned master's degrees.
Congratulations to all the new PhD students in these programs:
Driskill Graduate Program in the Life Sciences
Leah Billingham
Samantha Genardi
Lubov Grigoryeva
Galina Gritsina
Yoon Joo
Hyewon Kong
Shimeng Liu
Simona Morochnik
Megan Nas
Caitlin Pegg
Hunter Rogers
Gael Sholtes
Richard Sora
Tianjiao Sun
Patrick Woida
Shuya Wang
Lisa Wren
Pengcheng Zhou
Northwestern Interdepartmental Neuroscience Program
Priscilla Ambrosi
Erica Binelli
Daria Boratyn
Yin-Peng Chen
Samuel Cooler
Jeehaeh Do
Michael Fiske
Timothy Hark
Molly Hermiller
Brittany Hopkins
Haleh Karbasforoushan
Jason Kim
Adam Martersteck
Hecmarie Melendez-Fernandez
Mariah Meyer
Amy Rapp
Namratha Sastry
Takuma Sonoda
Kendall Timmons
Kevin Wilkins
Medical Scientist Training Program
Lauren Ammerman
Maria Aristova
Samuel Bowers
Nina Calantone
Sydni Cole
Michael Fernandopulle
Molly Frey
Anthony Gacita
Emma Gargus
Liliana Ma
Gregory McElory
Nathan Pincus
Melanie Zhang
Clinical Psychology PhD Program
Alyse Bedell
Lauren Bush
Lindsey Davis
Jaclyn Fox
Nicole Hayes
Tamaki Hosoda
Kelsey Howard
Kritika Nayar
Maureen Satyshur
DPT-PhD (Eng)
Andrew Dragunas
Health Sciences Integrated PhD Program
Salva Balbale
Jonah Musa
Charlotte Ward
Zexian Zeng