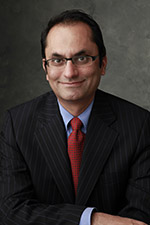 New Northwestern Medicine research is offering a cautionary note regarding the use of histone deacetylase inhibitors (HDIs) to treat cancer, neurodegeneration and a host of other diseases.
HDIs inhibit the expression of enzymes called histone deacetylases (HDACs).  A number of studies suggest that HDACs – in particular HDAC3 – play a role in causing neurodegeneration.
Puneet Opal, MD, PhD '95, associate professor of Neurology and Cell and Molecular Biology, used a genetic approach to explore the potential therapeutic benefits of reducing the enzyme. Opal studies spinocerebellar ataxia type 1 (SCA1), a neurodegenerative disease that causes a host of movement issues.
SCA1 shares many neurodegenerative traits with several other diseases of the brain, the most well-known of which is Huntington's, where HDAC inhibitors have also been proposed as promising therapeutic agents.
"We were surprised to find that deleting one of the two copies of the HDAC3 gene had no effect on the disease," said Dr. Opal, a member of the Center for Genetic Medicine and Parkinson's Disease and Movement Disorders Center, where he directs the Ataxia Clinic. "But when we completely eliminated HDAC3 from Purkinje cells (neurons) in the cerebellum, the result was equivalent to an enhanced disease state."
The findings were recently published in Human Molecular Genetics.
"The toxic effect on the nervous system caused by removing too much HDAC3 hasn't been reported before," Dr. Opal said. "These drugs are already being used to treat some neurological cancers, and our findings show the need to be extremely careful with the dosage."
Scientists concluded that different dosing strategies or the combination of HDIs with other agents may help prevent the neuronal side effects of this still-promising class of drugs, though exact measures still need to be determined.
Dr. Opal's research was supported by the National Institutes of Health grants R01 NS062051 and 1R01NS082351, with additional funding from the National Ataxia Foundation and the Brain Research Foundation.