The 163 members of the Class of 2014, as well as faculty, friends and relatives met at Chicago's Navy Pier Grand Ballroom on May 22 to celebrate the culmination of medical school.Eric G. Neilson, MD, vice president for medical affairs and Lewis Landsberg Dean, greeted guests to the 155th commencement, and introduced Morton Schapiro, PhD, president of Northwestern University.
Schapiro shared the story of his first Founders' Day; the day first-year medical students receive their white coats. It was his first event as the president of the University.
"I had the great honor of speaking to you a few years ago when you began your career at Feinberg," he said. "It was then, as it is now, very inspiring to look in your eyes and see the pride you take in your oath and to see your families filled with so much pride – congratulations on this great achievement."
Dr. Neilson thanked Schapiro for his remarks and reminded students that they are embarking on a journey of lifelong learning.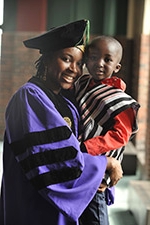 "This life, as you will quickly come to realize, is not a sprint, but a relay race," he said. "In this race you carry the weighty baton of current medical knowledge, a baton you will someday pass to a new generation not yet born, a generation who will depend greatly on how you have improved the profession and medical science for the good of human health."
Dr. Neilson gave the class his best wishes before introducing the commencement speaker, Robert J. Alpern, MD, dean of Yale School of Medicine and Ensign Professor of Medicine. An alumnus of Northwestern University, Dr. Alpern's research career has focused on the regulation of kidney transport proteins, and his early investigations helped define the mechanisms by which the kidney transports acid.
"As you leave these academic halls today to enter the next chapter of your journey, I urge you to strive to be a physician with compassion, humility, knowledge and prudence," said Alpern. "Do not be intimidated by the evolving healthcare system. As the next generation of physicians, you will define healthcare and you must define it well. The future is yours and I wish you well on your journey."
John X. Thomas, Jr., PhD, senior associate dean for Medical Education, then presented the members of the Class of 2014. As each new physician crossed the stage, they received their doctoral hood and diploma from their college mentor or a family member who is a physician. Twenty-eight graduates were hooded by a family member this year.
After degrees were conferred, Matthew Rowland, MD'14, nominated by his peers to give the senior class message, described life as a medical student and gave his fellow classmates some advice for the future.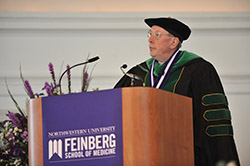 "I leave you with this last thought – we will certainly have challenging and frustrating days in our future," said Rowland. "I therefore ask you to always remember what an honor it is to be a physician, what a privilege it is to take care of people at their weakest moments, how far a kind word and smile can go, the power of hope and our duty to educate and advise. Today we get the honor of having the greatest career in the world."
As the commencement came to an end, the graduates recited the Declaration of Geneva: Physician's Creed, the same oath they took as first-year medical students. They pledged "to practice their profession with conscience and dignity," and to maintain by all means in their power "the honor and the noble traditions of the medical profession."
Twenty-seven of this year's graduates were inducted to the medical honor society, Alpha Omega Alpha, and five graduates received Magna Cum Laude in Scientia Experimentali and nine graduates received Cum Laude in Scientia Experimentali.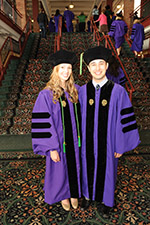 Students graduating with joint degrees included six graduates earning a Master's Degree in Public Health, two graduates receiving a Master's Degree in Medical Humanities and Bioethics, and 10 completing a doctorate in the Medical Scientist Training Program.
"Today feels very surreal. It's hard to believe that we are now suddenly doctors," said Chris Childers, MD'14, former student senate president. "I am very proud of my accomplishments and thankful for the solid medical foundation that Feinberg has provided to me. Members of the Feinberg faculty are some of the greatest teachers I have had throughout my entire educational career."
"It's an amazing feeling to accomplish this huge challenge," said Sadia Sahabi, MD'14. "When I started at Feinberg, I was six months pregnant. Being a mother while attending medical school has been very challenging at times, but early on I experienced compassion and support from my classmates and the faculty at Feinberg. My family, along with faculty and friends from Feinberg, have been a great support system throughout this journey."