"Admission into and completion of any physician assistant program is grueling, and I would bet every single one of us hit low points and questioned our entire path and even our abilities along the way," said Brittany Johnson, MMS'14. "But today is important because it makes a lot of things make a lot of sense – it makes a lot of things feel so right. Today we celebrate the struggles now making sense, now feeling so right."
Johnson, Class of 2014 president, and 28 peers in the Physician Assistant (PA) Program received their Master of Medical Science degrees at commencement on Saturday, May 17.
"To say that I feel blessed to have completed PA school at one of the country's top medical education institutions would be an understatement," said Johnson, who has taken a position with the Illinois Bone & Joint Institute assisting with total joint replacement surgeries. "It is an honor to now always be affiliated with and represent Northwestern in my career."
Starting the ceremony, Diane B. Wayne, MD, vice dean for Education, welcomed family and friends.
"This program is one of the most distinguished and most competitive in the country," she said. "Your accomplishment is therefore one of which to be justifiably and immensely proud."
Dr. Wayne shared important characteristics of a professional, including keeping abreast of new knowledge, taking responsibility for your own behavior, holding others to the highest standards and serving others.
"Exceptional and exemplary professional behavior is something we aspire to as a core feature of Northwestern University practice," Dr. Wayne said. "Professionals put the needs of patients above personal and financial consideration. You must always remind yourselves that the best way to serve yourself is to serve others. It is a great privilege to have the ability to provide care for others in their time of need."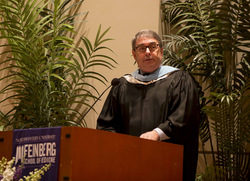 Commencement speaker Tony Miller, MEd, PAC, chief policy officer and head of research at the Physician Assistant Education Association, spoke on the significance of passion and commitment in their personal and professional lives. He challenged graduates to volunteer in their community, and to be a lifelong learner, activist, teacher and active alumnus.
"Today you are receiving a master's degree, another ticket to a bright future," Miller said. "With that I challenge you to use your passion to do something that will change the world. I challenge you to go beyond the assembly line approach to medicine, to reflect on your skills and interests in order to determine what you can do to better the lives of your patients, family, community, society and the way in which we live."
Michael MacLean, MS, PAC, director of the PA program, lead the graduates in reciting the Physician Assistant Oath before handing the program to Dr. Wayne to conduct the conferral of degrees. Each graduate was called on stage to receive their diploma and hooded by a faculty member.
MacLean presented the Dean's Academic Achievement Award to Deanne Barbara Shippee Martin, MMS '14, for her exemplary accomplishments in academics and community service. He then introduced Keith Bond, MMS '14, as the class speaker.
Bond shared three life lessons he learned during his clinical rotations: the importance of listening, teamwork and happiness, and also thanked his classmates.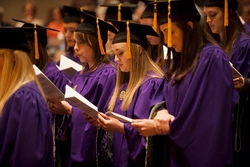 "We may have started as complete strangers, but together in the first month of school we all decided that we would be here today walking across this stage together and we did," he said. "As we wrap up our PA education and reflect on the past two years and where we are in our lives, I wish us all the best as we continue to write our own symphonies and biographies."
After the ceremony, students joined family, friends and faculty for a reception.
"Today is important to me because of what completing this degree means to my children," said LaToya Young, MMS'14. "Relocating my family to Chicago and starting such a rigorous program was daunting. Now that I'm at the finish line, I am so pleased with my decision to move forward, even in fear. I hope my children and maybe others will learn from me that courage is not moving forward without fear, but moving forward in spite of fear."
Young plans to stay in Chicago and work as a PA.
"Becoming a PA has been one of the best decisions of my life," she said. "I absolutely love my new profession and can't wait to serve the underserved population in primary care."