More than 130 prospective students visited campus April 24-25 for Second Look. Hosted by the Office of Admissions, the annual event gives individuals accepted into the Class of 2018 the opportunity to learn more about Feinberg before making their final decision about where to attend medical school.
Earlier in the month, prospective Medical Scientist Training Program (MSTP) students came to campus for a Second Look. Planning to complete a dual MD/PhD degree, these students met with prospective faculty mentors and heard about student life and activities from current students. They also attended the 10th Annual Lewis Landsberg Research Day to learn about the vast array of science happening on campus.
Warren Wallace, MD, associate dean for Admissions, and Diane Wayne, MD, vice dean of Education, welcomed guests on Thursday afternoon.
"I'm excited to be here and to welcome you," said Wayne. "I saw the product of our students and others as a residency director, and the people that come from Northwestern are the best people. There is something intangible about Northwestern that makes our students stand out from the others and turns out nice people, hard workers and future leaders."
Second Look participants broke into small group sessions and panel discussions that outlined Feinberg's curriculum, joint degree programs and community health clinics, as well as opportunities for global health and student research.
"It is nice to see the campus again and have time to wander around to see what it would be like to be living here," said Brenna Brown, who received her undergraduate degree from Amherst College and is currently a patient care coordinator at a clinic in Baltimore. "I am staying with a medical student, so it is good to hear their perspective and see how they like the school."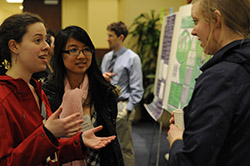 Brown's favorite part of the event was the bioethics breakout session, where they discussed the degree program at Feinberg and did a case study.
"It really showed how what they teach is applicable to medicine and it was great to learn more about the degree program," she said.
For Tomas Manghi the best part were the tours of the hospitals on campus.
"I really enjoyed the hospital tours and seeing the inside of the beautiful buildings," said Manghi, a native of Chicago and a Tufts alumnus. "You hear about Northwestern having some of the best hospitals in the country, but getting to see the quality of healthcare Northwestern delivers is really fascinating."
In addition to tours of Northwestern Memorial Hospital's Prentice Women's Hospital, the Rehabilitation Institute of Chicago, and the Ann & Robert H. Lurie Children's Hospital of Chicago, the students also toured the Simulation Technology and Immersive Learning Center at the medical school.
Second Look concluded with an activities and student organization fair, during which they learned about various student groups from current medical students.
The Office of Diversity also sponsored a program for guests on Friday night, giving more than 40 underrepresented students the chance to connect with one another and with Feinberg's diverse community of faculty and current students.