Travis Sims, a fourth-year medical student, waited anxiously Friday morning to open his envelope at Match Day. The paper inside would reveal where he would spend the next phase of his medical training."I'm ready to know what my next steps will be," said Sims. "I've spent the last four years in medical school and built great relationships with my classmates. It is nice to have us all together to share in this one last experience before graduation."
Along with 162 peers in the Class of 2014, Sims tore open his envelope at 11:30 am. He learned he will be attending University of Texas Southwestern Medical School in Dallas to train in Obstetrics and Gynecology.
"I'm excited for the opportunity to put into practice what we've all worked so hard learning for the past four years, and I'm looking forward to the challenges I'll face in residency," Sims said.
Fourth-year medical student Laura Boitano said, "The feeling of being handed my destiny in an envelope was unlike anything I've experienced before, and I'm so thankful I could share it with my classmates."
Boitano will start a Vascular Surgery residency at Massachusetts General Hospital. Typically, trainees complete a General Surgery residency before specializing, but she is excited to enter her area of interest immediately.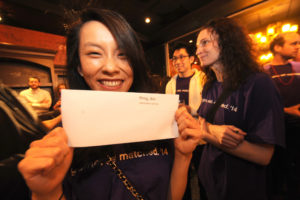 "I'm looking forward to starting my career and treating patients both medically and surgically. Vascular Surgery allows me to do this while also having long standing relationships with my patients," she said. "Plus, the surgical procedures are just so intricate and cool; being able to start training in this specialty during year one of residency was very appealing."
Match Day is held at medical schools throughout the country at the same time every year. More than 90 percent of U.S. medical school seniors matched to residency positions, and for the second year in a row, the total number of match registrants topped 40,000, according to the National Residents Matching Program (NRMP).
"It is nice to celebrate with everyone because to get to this point in our medical careers was a class effort. Today is what we've all been waiting four years for," said Jasmine Rassiwala.
An Honors Program in Medical Education student, Rassiwala has spent the past seven years at Northwestern University and is excited to have matched in Internal Medicine at University of California at San Francisco.
"Chicago and Northwestern have been my home," she said. "I'm ecstatic that I'll be moving away to California because I will be able to broaden my horizons and experience medicine in a new environment."
This year, 925 couples participated in the match and 843 of them received their residency program preferences. Participants who enter the match as a couple agree to have their lists of preferred residency programs linked to each other so they can try to match to a pair of programs that suits their needs.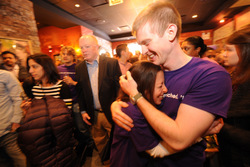 Conducted by the NRMP, matches are made by using a computerized mathematical algorithm to align the preferences of applicants with the preferences of residency program directors to fill the training positions available in U.S. teaching hospitals.
Adam Haag and Caitlin MacGregor entered the match as a couple and understood that it would be a demanding process.
"We went into it knowing that at the end of interviews we were going to have to create our rank list together," said MacGregor. "We were also able to help the other person remember what they liked best about specific programs, or how excited we felt afterwards compared to other programs. We made our rank list in about 20 minutes, submitted it to the website and didn't look back."
They both matched at Brown University, Haag in Emergency Medicine and MacGregor in Obstetrics and Gynecology.
"We could not be happier to match at Brown," she said. "This has been the perfect ending to the whole process and we are thrilled to be spending the next four years together in Providence. We are not just happy for ourselves, but for our friends and peers who matched, as well."