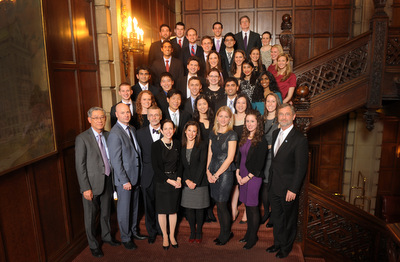 The newest members of the Alpha Omega Alpha (AOA) medical honor society were inducted at a ceremony on Tuesday, March 18. Inductees included medical students, residents, fellows, faculty members and alumni. AOA acknowledges scholarly achievement and qualities such as leadership, professionalism and community service.
AOA speaker Daniel W. Foster, MD, John Denis McGarry, PhD, Distinguished Chair in Diabetes and Metabolic Research in Internal Medicine from the University of Texas Southwestern Medical School at Dallas, kicked off the evening with the Walter G. Barr, MD, Lecture. His presentation focused on science in medicine, the history of medical science and the future of academic medicine.
"I've had a wonderful day today," Dr. Foster said. "The students I met with are remarkable people and I've been impressed with all of the things going on here at Northwestern and I thank you for allowing me the chance to be here."
The induction ceremony followed the lecture. John P. Flaherty, MD, councilor of the AOA Illinois Gamma Chapter and professor in Medicine-Infectious Diseases, congratulated inductees and welcomed family and faculty members.
A total of 27 medical students were welcomed into the society by John X. Thomas Jr., PhD, senior associate dean for Medical Education and Sandra M. Sanguino, MD, associate dean for Student Programs and Career Development.
"I'm honored to be inducted into the AOA," said Matthew Rowland, a fourth-year medical student. "Having Dr. Foster talk with us about what it means to be a physician and his approach to caring for patients are principles that I will take with me throughout my residency and career."
Other medical students inducted included Laura Banks, Chris Childers, Jonathan Chou, Dara Cohn, Clarabelle DeVries, Brian Dubin, Becky Farmer, Mary Alexandria Friedman, David William Grant, Alyssa Greiman, Shauna Himashi Gunaratne, Kassandra Holzem, Natalie Anne Homer, Daniel Hunter Katz, Vanessa Kiepura, Sarah Yuri Lee, Caitlin MacGregor, Bryce Merritt, Shayan Nabavi Nouri, Satvik Ramakrishna, Jasmine Rassiwala, Michael Rehorn, Nilay Shah, Vidit Sharma, Alexander Yowei Sheu and Anaar Siletz.
Residents and faculty members were announced by Diane Wayne, MD, vice dean for Education. They were honored for ongoing leadership in their field and active participation in teaching and community service.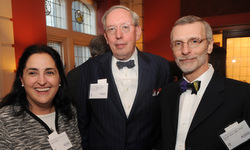 Residents and fellow inductees included Emma L. Barber, MD, administrative chief resident in Obstetrics and Gynecology, Laura Davidson, MD, resident in Medicine-Internal Medicine, Benjamin Korman, MD, fellow in Medicine-Rheumatology, and Sean B. Smith, MD, chief fellow of Medicine-Pulmonary and Critical Care Medicine.
"It is wonderful to be selected to be a part of this honor society," said Dr. Davidson. "It is something that doctors aspire to achieve. It is great to be part of a network of physicians and scientists, and to have the opportunity to ask advice and meet with great leaders."
Faculty members welcomed into the society included Honorio T. Benzon, MD, professor in Anesthesiology, David R. Gius, MD, PhD, Zell Family Scholar and Professor in Microbiology and Radiation Oncology, Jacqueline S. Jeruss, MD, PhD, associate professor in Surgery, and John E. Pandolfino, MD, MS, chief of Medicine-Gastroenterology and Hepatology.
Andrew D. Bunta, past president of the Medical Alumni Association, announced alumni inductees James P. Kelly, MD'83, MA, director of the National Intrepid Center of Excellence at Walter Reed National Military Medical Center, Boris Lushniak, MD'83, MPH, RADM, acting U.S. Surgeon General, and Quentin Young, MD'48, National Coordinator of Physicians for a National Health Program and chairman and co-founder of Health and Medicine Policy Research Group.
"It is humbling to be inducted into this society, especially alongside Dr. Quentin Young, who I admire and have a close relationship with," said Dr. Kelly. "The fun part is being inducted with Dr. Boris Lushniak, a friend and classmate. It is rewarding to have peers acknowledge your work and to have a career that is thought of as benefiting society."