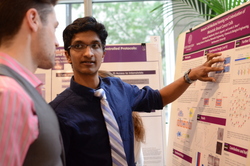 As an undergrad, second-year medical student Chaitanya Medicherla investigated brain and breast cancer cell migration. Interested in continuing this research at Northwestern University Feinberg School of Medicine, he began working on a project with Brian Aguado, a PhD candidate in the Biomedical Engineering Department at the McCormick School of Engineering at Northwestern.
"There were countless opportunities for research here at Feinberg, and I found Brian's interest in metastasis in line with my interests in the biophysics of cancer," said Medicherla.
Together the pair conducts research on breast cancer metastasis, or the spreading of cancer cells from a primary site to distant organs, in the lab of Lonnie Shea, PhD, professor in chemical and biological engineering at McCormick.
"Metastasis is the final stage of cancer, and the five-year survival rates for metastatic cancers are shockingly low. One of the primary research goals of the Shea Lab is to develop a system for the early detection of metastatic cancer," he said. "To this end, we are modeling the process by which cells metastasize to distant sites, referred to as 'pre-metastatic niches.' We are investigating the role of immune cells in facilitating that process of homing and colonization of metastatic cells."
Medicherla uses media conditioned with immune cells to determine the effects of immune cell secreted factors on metastatic breast cancer cells. He conducted this research over the summer as part of his Area of Scholarly Concentration, a four-year research project that's part of the new curriculum.
"We are using novel high-throughput technologies to determine which transcription factors (proteins that bind to specific DNA sequences) have increased activity in the metastatic cells. We hope that our efforts will aid in highlighting the key signaling pathways and mechanisms that regulate the homing and colonization of cancer cells," Medicherla said.
This fall he plans to quantify the physical changes in cells and is developing analytical techniques to measure these effects. He will then focus on real-time monitoring of cell migration.
"Brian has been working rigorously on identifying candidate transcription factors and the mechanisms that are increasing the metastatic activity of cancer cells. We hope that we can tie everything together in in the near future to yield some insight into the complexities of metastatic cancer," he said.