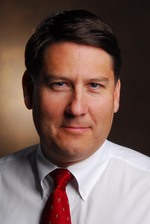 Alfred L. George Jr., MD, a recognized leader in the field of ion channel proteins, has been named the Magerstadt professor of pharmacology and chair of the Department of Pharmacology at Northwestern University Feinberg School of Medicine, effective March 1, 2014. George will also direct a new Center for Pharmacogenomics to advance Northwestern Medicine's entry into personalized medicine.
"Al is a superb scientist with a demonstrated ability to lead and mentor the next generation of investigators in pharmacology," said Eric G. Neilson, MD, vice president for medical affairs and Lewis Landsberg Dean. "Over the past several decades he has established his credentials in fundamental science surrounding ion channel biology and gained entry into some of medicine's premier societies and I look forward to his arrival at Feinberg and the expertise that he will bring. I would also very much like to thank Milan Mrksich, PhD, and the search committee for identifying such an outstanding candidate."
George was most recently the Grant W. Liddle Professor of Medicine, professor of pharmacology, chief of genetic medicine, and director of the Institute for Integrative Genomics at Vanderbilt University. He received his medical education from the University of Rochester and then acquired clinical training at Vanderbilt and the University of Pennsylvania. While at Penn, George honed his expertise in molecular genetics of ion channels as a fellow in the Departments of Medicine, and of Biochemistry and Biophysics, as well as in the Institute for Neurological Sciences. He joined the faculty at Vanderbilt in 1992 and was promoted to the rank of professor six years later. In 1999, he established the Division of Genetic Medicine, serving as its first, and only, chief. In 2004, he became the founding director of the Vanderbilt Institute for Integrative Genomics.
"It is a great honor to be selected as chair of the Department of Pharmacology," George said. "The opportunity to work with outstanding faculty colleagues, and the great institutional leadership is very exciting, especially during this time of anticipated growth at Feinberg."
George has had a long and successful career focused on the structure, function, genetics, and pharmacology of human voltage-gated ion channels. For several years he has been deeply engaged in graduate education in pharmacology at Vanderbilt and has twice earned the department's faculty teaching award. In creating and directing the multi-school Institute for Integrative Genomics, he drove Vanderbilt's national and international reputation for genomic research using zebrafish, established and led a twice-renewed National Institutes of Health (NIH)-funded training program, and created and directed a major post-graduate training program. In addition to his administrative duties, George was the scientific director of the Vanderbilt DNA Sequencing Facility from 2001 to 2011 and led efforts to implement next-generation sequencing resources.
He is an internationally regarded leader of diseases caused by the disturbed function of ion channels, including those resulting in heart rhythm disorders, such as the congenital long-QT syndrome, and neurological disorders, including epilepsy. His lab was the first to explain the functional consequences of an ion channel mutation linked to an inherited arrhythmia.
A prolific researcher who has received numerous national and international awards, George is principal investigator on two National Institutes of Health R01 grants and also an institutional training grant. He was elected to the American Society of Clinical Investigation (ASCI) in 1998, serving as ASCI Councilor from 2000 to 2003, the Association of American Physicians in 2001, and as a fellow of the American Association for the Advancement of Science in 2011.
He has been the primary organizer of three international conferences and has been active on NIH study sections, including his current service as chair of the Electrical Signaling, Transporters and Arrhythmia study section. He has also served as associate editor for Molecular Pharmacology, the Journal of the American Society of Nephrology, and the American Journal of Physiology.
George will be giving a presentation as part of the Feinberg Cardiovascular Research Institute Seminar Series on Thursday October 17, from 8:30-9:30 a.m. at Wieboldt Hall.
"As chair, I will embrace the philosophy that the discipline of pharmacology spans a continuum from basic research to the translation of scientific knowledge on drug targets and drug action to the clinical setting," he said. "We will build on the existing excellence in ion channel pharmacology and drug discovery at Northwestern and strive to develop a new emphasis on pharmacogenomics."