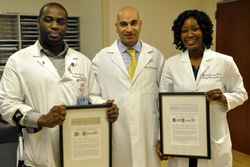 McGaw Medical Center of Northwestern University awarded the 2013 Marco Ellis Legacy Award to residents Rachel Issaka, MD, and Ike Okwuosa, MD, for their outstanding commitment to diversity.
The award was created last year in honor of former resident Marco Ellis, MD, and is presented annually to those who demonstrate an interest and devotion to improving the experience of underrepresented minorities on campus.
"The Department of Medicine is committed to diversity among its trainees and fostering an environment of inclusion," said Diane Wayne, MD, vice-chair of education in the Department of Medicine and Dr. John Sherman Appleman Professor of Medical Education. "Over the past five years we have been fortunate to more than double our recruitment of residents from groups traditionally underrepresented in medicine. We are committed to this due to the diverse patient population we serve both at Northwestern Memorial Hospital and the Jesse Brown VA Medical Center."
Issaka, chief resident in internal medicine, served as the second president of the Northwestern McGaw Underrepresented Resident and Fellow Forum (NMURFF). Her efforts resulted in continued success recruiting underrepresented residents and have helped further McGaw's reputation for a strong commitment to diversity and inclusion.
"Receiving this award is very encouraging," said Issaka. "It means the work we did was fruitful and made an impact on campus. As residents we saw the NMURFF get started and we saw the potential it had for growth. This award shows we accomplished our goals."
Issaka is a past president of the Black Medical Association and vice-president of the Student National Medical Association. She also has been involved in multiple research projects combining her interests in community health and gastroenterology. Issaka plans to pursue an academic career in gastroenterology.
"Her contributions to Northwestern will only increase this year as a chief medical resident," said Wayne. "She is committed to the care of the underserved and will undoubtedly contribute to the field of academic gastroenterology in the future."
The second honoree, Okwuosa, contributed to the effort of recruiting underrepresented residents. He met with visiting students and reviewed countless applications, and organized special instruction sessions to mentor undergraduate medical students.
"It is extremely humbling to receive this award and I am honored to be compared to Marco Ellis," said Okwuosa. "We saw what past presidents accomplished and built upon what was done before. We worked hard to get more residents and fellows involved in the NMURFF and also branched out to medical students."
Okwuosa received a professionalism award from the Jesse Brown VA Medical Center for his selflessness and dedication to Chicago veterans. In 2011, he received the Northwestern Memorial Hospital A. A. Goldsmith Award to recognize humanism toward patients and families. Okwuosa is active in cardiology research and received a Young Investigator Award from the National Lipid Society last year. He will start a cardiology fellowship at Johns Hopkins in July.
"Ike is one of the nicest people I have ever met," said Wayne. "He is always smiling and a great member of the healthcare team.  Everyone holds Ike in the highest regard due to his clinical acumen and true dedication to service on behalf of his patients. He will undoubtedly contribute more to the field of cardiology and heart failure in the future."