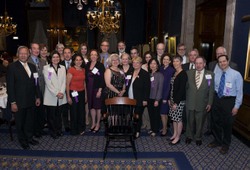 Rebecca Unger, MD, GME '88, associate professor of clinical pediatrics-community-based primary care, can still recall the embarrassing creases in her lab coat. 
It was her first shift, and it was plain to see. More than 9,000 days later, the wrinkles long since ironed out, Unger joined 48 other faculty members recognized for their 25 years of service at Northwestern University Feinberg School of Medicine. 
Representing nearly two-dozen specialties, the honorees were invited guests alongside 150 active faculty who have reached the quarter-century service milestone. 
Eric G. Neilson, MD, vice president for medical affairs and Lewis Landsberg Dean, welcomed those in attendance at this year's annual dinner and reception, held Wednesday, June 19, at the Union League Club of Chicago.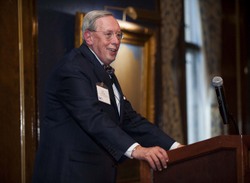 "This is one of my favorite events of the year, because all of you represent the longitudinal history at Feinberg," Neilson said. "Though you started this journey from many different places, you have come to represent the long-term values of what we strive to be." 
Building More Than a Career
Remembering a day when she was the only full-time faculty member in pediatric dermatology, Amy Paller, MD, chair of dermatology, takes pride in having built the division while also initiating one of the top clinical trials research programs in the nation. 
"I have had the good fortune to be engaged in so many aspects of what makes Northwestern special, from the clinical care for both children and adults, to teaching and mentoring students, residents, and fellows on a daily basis, to the intellectual challenge of the world of bench science, and the satisfaction of cutting-edge clinical trials research," said Paller, Walter J. Hamlin Professor of Dermatology and professor in pediatrics-dermatology. "It's been a fabulous 25 years at the medical school and I'm still enjoying the ride." 
As part of the recognition of these long-serving faculty members, Dean Neilson presented each new honoree with a personalized chair, their name engraved into the hardwood maple.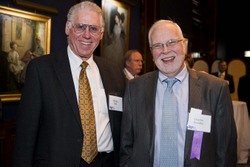 "Our faculty members are the most important and valuable asset of the medical school.  They are critical to successfully accomplishing our missions of training the next generation of clinicians and researchers, providing cutting-edge clinical care, and creating new knowledge," said Bill Lowe, MD, vice dean of academic affairs.  "Each year, Feinberg hires more than 100 new faculty, and it is the long-serving individuals in this room tonight who provide the crucial mentoring and training that will help them become active and engaged members of the Northwestern Medicine® community." 
A Night of Celebration
Charles Goolsby, PhD, Floyd Elroy Patterson Research Professor of Pathology, celebrated the evening with wife, Nancy Starks, executive assistant in the department. Together, they represent more than 55 years of service at Feinberg.
"My biggest discovery at the medical school was finding my beautiful wife," said Goolsby, director of the Flow Cytometry Core Facility at The Robert H. Lurie Comprehensive Cancer Center of Northwestern University.  "We instantly bonded and have been wonderfully happy ever since."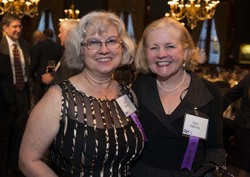 Goolsby, who continues to study the cell biology of the most common type of blood cancer in adults, recalled the many joys of staying at one institution for a quarter-century. 
"It has been amazing to take part in mentoring and teaching interactions with residents and fellows in our program, continuing to watch them mature throughout their careers," he said. "Over 25 years, the staff in my laboratory have been just exceptional. They are a wonderful group of dedicated and highly talented individuals – some of the best in the country – that I also can count as friends"  
From anesthesiologists to vascular surgeons, many of the newest members of the 25-year club enjoyed the chance to look back and reminisce. 
"I have had the same job for 25 years, and some of the people in this room I have known for more than two decades," said Unger, who received a Dean's Award for Teaching Excellence in 2011. "For me, teaching is not only important, but really fun. It's a two way street; I learn from my students and they learn from me. I just really enjoy the opportunity to help others discover their careers."