Ronak Ajit Vashi, MD'13, beamed as her oldest sister, Roopal Vashi Kundu, MD'01, associate professor in dermatology, hooded her at graduation. In 2008, Kundu had performed this honor for their middle sister, Neelam Vashi Secemsky, MD'08, GME'09, assistant professor of dermatology at the Boston University School of Medicine.
"Both my sisters graduated from Feinberg, and I feel honored to continue the tradition," Vashi said. "Graduating is bittersweet for me. It is exciting to imagine what the next chapter holds and to reflect on our past four years, but it is also hard to part ways with the many wonderful friends and faculty in the Northwestern community."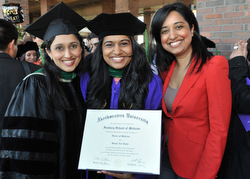 Vashi was one of 48 graduates hooded by a family member this year. She joined the 161 members of her class, as well as faculty, friends, and relatives at Chicago's Navy Pier Grand Ballroom on May 23 to celebrate the culmination of medical school.
Eric G. Neilson, MD, vice president for medical affairs and Lewis Landsberg Dean, greeted guests to the 154th commencement, and introduced Morton Schapiro, president of Northwestern University.
Schapiro shared the story of his first Founders' Day, the day first-year medical students receive their white coats. It was his first event as president of the University.
"It was a magnificent event and I've never missed one subsequent to that," he said. " Now it is four years later and to be back with you is an incredible pleasure…I'm inspired by you, when I look at you and see that incredible pride, all the hard work that went into this, seeing your families behind you so proud of what you've achieved on this day – congratulations on your magnificent accomplishments."
Neilson thanked Schapiro for his remarks and reminded students that they are embarking on a journey of lifelong learning.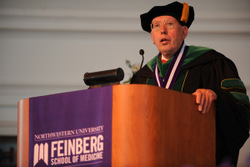 "This is your special day. Remember from where you came, both the people who helped you get here, and, most importantly, the multitudes who will depend on the talents and skills asked of you in the future," he said.
Neilson gave the class his best wishes before introducing the commencement speaker, Elizabeth G. Nabel, MD, president of Brigham and Women's Hospital and professor of medicine at Harvard Medical School. She is known as one of the nation's leaders in academic healthcare and is one of the largest recipients of National Institutes of Health research funding.
"Welcome to medicine," Nabel said. "It is an amazing profession that is so much more than a job or a career, and that is what I really love about it. When you are a physician, you have a wonderful opportunity to wear a lot of different hats."
Nabel went on to describe some of those hats: to help people feel better, to learn constantly, to do research, and to drive change in this world. She shared her own journey as an advocate for women's cardiovascular health and global health.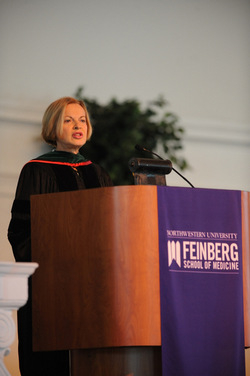 "I know that all of you have worked so hard to do many things outside of getting your degree and making change for others," she said. "I congratulate you all for these wonderful efforts and I encourage you to keep them up. Class of 2013, you are the future of medicine. As you cross the next thresholds of your life, I wish you all the best."
John X. Thomas, Jr., PhD, senior associate dean for medical education, then presented the members of the graduating Class of 2013. As each new physician crossed the stage, they received their doctoral hood and diploma from their college mentor or a family member who is a physician.
After degrees were conferred, Laura Sestokas Humphries, MD'13, nominated by her peers to give the senior class message, described life as a medical student.
"Medical school has forced us to not only learn things, but also to learn ourselves," she said. "We do not come to know ourselves totally, not even close, but we come to know ourselves well enough to begin to do this work that requires not only a deep understanding of pathology, but also a deep understanding of empathy and humanity."
Humphries thanked faculty, family, friends, and classmates – her "village" – for their support in making it possible for the class to graduate today.
"So, fellow graduates, be kind, be thoughtful, be engaged in your village, because others deserve a village as good as ours was," she said. "I am humbled and honored to have shared this space with you all, to call you my colleagues. I thank you for being part of my village. It was a wonderful place to grow up."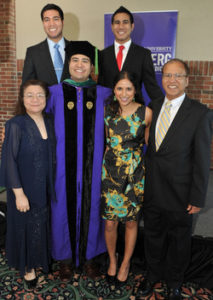 As the commencement came to an end, the graduates recited the Physician's Creed Declaration of Geneva, the same oath they took as first-year medical students. They pledged "to practice their profession with conscience and dignity," and to maintain by all means in their power "the honor and the noble traditions of the medical profession."
Twenty-eight of this year's graduates were inducted to the medical honor society, Alpha Omega Alpha, and two new Latin Honors awards were given this year, with eight graduates receiving Magna Cum Laude in Scientia Experimentali and 15 Cum Laude in Scientia Experimentali.
Fourteen students were honored for graduating with distinction in research. Students graduating with joint degrees included 14 graduates earning a Master's Degree in Public Health, four graduates receiving a Master's Degree in Medical Humanities and Bioethics, and 11 completing a doctorate in the Medical Scientist Training Program.
"It has been a long haul, I spent almost a decade here – eight years – and I feel a mix of happiness and excitement," said Hans Arora, MD,'13, PhD'12. "Today is not only for myself, but this day is something to be shared with friends and family."