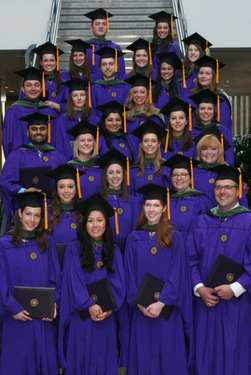 The 28 members of Northwestern University Feinberg School of Medicine's Physician Assistant (PA) Program Class of 2013 earned their Master of Medical Science degrees on Saturday, May 18.
Raymond Curry, MD, vice dean for education, welcomed family and friends to the commencement ceremony. He thanked the graduating class – the program's second – for their faith in the medical school and in the program, which recently achieved full and continued accreditation.
"You had the confidence to recognize the potential of this program and for that we thank you," Curry said. "As our second graduating class, you will assume different positions of visibility and leadership in the community and profession. You will come to represent this program and establish its reputation … you will become the face of this program."
After the national anthem, James Van Rhee, MS, PA-C, associate professor and director of the PA program, introduced commencement speaker Jim Delaney, PA-C, president of the American Academy of Physician Assistants.
Delaney said he was delighted and humbled to be at the commencement ceremony and congratulated students, noting that they are entering a young and fast-growing profession.
"I encourage you to volunteer your time and expertise serving the medical and underserved communities in the country and throughout the world. I encourage you to become a mentor and a preceptor for current and future students so they can follow in your footsteps and also become healthcare providers," he said. "I encourage you to consider becoming educators and PA program administrators to continue to provide quality education and to expand the vision of moving this profession to new levels."
Following the address, Curry led the conferral of degrees. Then each graduate was called on stage to receive their diploma.
Van Rhee gave special recognition to Stephanie Brooke Cohen, MMS '13, and Shannon Elizabeth Crabtree, MMS '13, for their research projects. Cohen studied the use of narrow band UVB phototherapy as a treatment of psoriasis and the associated risk of skin cancer, and Crabtree investigated the prevention of acute kidney injury in high-risk patients with low dose of Fenoldopam. He thanked the commitment of the class leaders, Sincer Kurian Jacob, MMS '13, class president, Ann Cameron Haley, MMS '13, vice-president, and Sarah W. Albarran, MMS '13, secretary. Van Rhee also presented Kunjal Sanjay Kadiwala, MMS '13 with the PA Program Academic Award.
He introduced Lisa Anne Werner, MMS '13, as the class speaker. During her address, she shared her experiences as a humanitarian aid worker in Afghanistan and how it related to what she learned as a PA student.
"The lessons we learned in Afghanistan: one, embrace dependence on the people around you; two, treat your patients like guests; three, embrace a vision bigger than yourself … Friends, let us not forget that in the privacy of the exam room, our patients share their secrets and their fears with us. This is a sacred and precious gift," she said.
Van Rhee gave closing remarks, "As a physician assistant you now have the responsibility to care for others to the best of your ability. This responsibility does not end at the office. Take this responsibility and trust very seriously and you will have a most enjoyable and fulfilling career."
After the ceremony, students joined family, friends, and faculty for a reception.
"It feels surreal – the two years have gone by so quickly," said Haley. "Our white coat ceremony seems like yesterday, yet we have all learned and grown so much."
Haley, who is deciding between job offers at two dermatology facilities, says her favorite part of the program was the clinical rotations because she could put the knowledge from the classroom to use in the clinic.
"Every one of my rotations taught me something new," she said. "Each preceptor welcomed and challenged me, and I will look back on those experiences fondly as I start my own career."