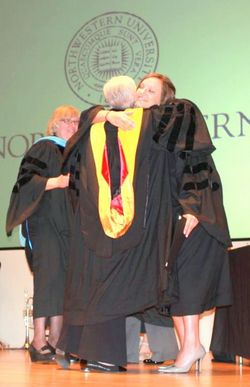 Her knee just gave out. 
But while a torn ACL meant sacrificing time on the lacrosse pitch, for Mary Kate Casey, DPT '13, it would also lead to the discovery of what is now a budding career. 
Seven years removed from her own rehabilitation, Casey walked off the stage inside Thorne Auditorium on Saturday, April 20, to take her first steps as a graduate of the Doctor of Physical Therapy Program (DPT) at Northwestern University Feinberg School of Medicine. 
"This journey has been one with many challenges and obstacles along the way," said Casey, recipient of the Sally C. Edelsberg Scholarship in Physical Therapy. "However, without these challenges and the support of the faculty and staff at the medical school, I wouldn't feel ready to embark on my career. Although leaving is bittersweet, I am confident in my abilities and the skills that have been instilled in me and the values and beliefs I hold after participating in this program."
Casey was among the 74 members of the Class of 2013 to celebrate the culmination of their physical therapy education. The longest continually accredited physical therapy school in the nation, Feinberg continues to place among the best in the annual U.S. News & World Report rankings. 
After finishing her undergraduate degree at Northwestern in 2009 – while a part of four-consecutive NCAA lacrosse championship teams – Casey enrolled at Feinberg. Following graduation, she will work with physical therapy group Atheltico at their Evanston Clinic. There she will work under fellow Northwestern graduate Lisa Palazzolo, DPT' 04, who was her athletic trainer and physical therapist in 2006. 
"It was in the training room during the many hours of therapy that I became eager to learn more and develop an understanding of the rehabilitation process," Casey said. "I am so excited to work with Lisa and her staff and to develop relationships with Northwestern sports medicine doctors, student-athletes, and the rest of the Northwestern community." 
Representing the 85th graduating PT class, Sarah Lange, DPT '13, talked about her experiences at Feinberg as well as her excitement for the future. 
"It has been amazing to see the connection between what we learned in the classroom and how easily it is applied in the real world," said Lange, who also received a DPT clinical education award. "The best part of this program is having the opportunity to take the knowledge learned in the classroom into the clinic. The clinical experiences provided us with such great opportunities to practice our skills and implement our knowledge. It has also been so amazing getting to know my classmates. We are all so different but have found such a unique common ground in the program over the past three years." 
Lange has accepted a position as a physical therapist at Mary Free Bed Rehabilitation Hospital in Grand Rapids, Michigan. 
The three-year DPT program includes part-time clinical involvement during the academic portion of the curriculum, as well as 38 weeks of full-time clinical internships divided between four of more than 400 clinical education sites across the country. Feinberg also offers research opportunities and more than half of DPT students present their research at national physical therapy association meetings or other scientific meetings. 
Clinical Education Award recipients included Lacy Wiley, DPT '13, and Erica Ziverts, DPT '13. The department's Leadership Award was given to Caitlin Sureck, DPT '13. Rachel Lauren Hawe, DPT '13, Saturday's only graduate who is also part of the groundbreaking DPT/PhD (Eng) Program, was recognized as the 2013 Dean's Feinberg DPT/PhD Scholar. 
"Graduating feels fantastic," said Erin Percival, DPT '13, recipient of the Elizabeth Wood and Dorothy Voss Physical Therapy Scholarship and student member of the PT department's Diversity Committee. 
By having faculty who pushed students to become independent decision makers, she said it allowed them to excel as clinicians, researchers, and educators. 
"Given a clinical situation, the faculty encouraged us to come to a conclusion and be able to explain our rationale for our treatment approach based on our didactic knowledge, research, and an understanding of the patient's situation," said Percival, who will work as a physical therapist at Schwab Rehabilitation Hospital in Chicago. "We were never spoon fed any answers, and this has been tremendously important for me in my clinical experiences."