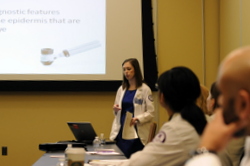 On Friday, March 15, twenty-eight physician assistant students from the Class of 2013 gave presentations on a scientific topic at the 2nd Annual Physician Assistant Research Day. The event served as the culmination of their clinical rotations and final year at Northwestern University Feinberg School of Medicine. Michael Wolf, PhD, MPH, associate professor of medicine and learning sciences, gave the keynote lecture, "Healthcare Made Simple: Redefining Patient, Provider, and Health System Roles."
James Van Rhee, MS, PA-C, associate professor and director of the Physician Assistant (PA) Program, said the event plays an important part in the program's curriculum.
"The focus of the research project is for our students to learn to use evidence-based medicine," he said. "Promoting scholarly activity is important, and it is important that they question how and why processes and procedures are in place and to understand how to analyze scientific articles and data themselves."
The PA program offers a master's degree in medical science and is an innovative 24-month curriculum featuring lectures, small group discussions, clinical experiences, and problem-based learning. The clinical year consists of seven required rotations and a vast number of possible electives. Clinical sites are located throughout the Chicago area.
While on clinical rotations in their second year, students work on a master project. This final component of the curriculum is a research paper and presentation about a clinical question. Projects spanned topics from reduction of surgical site infections and racial disparities in hospice to lateral ankle sprain interventions and melanoma treatments.
While in clinic, second-year PA student Shannon Crabtree did not like the treatment plan for a certain patient and decided to do her project on a different potential therapy.
"The doctor told me to look into what treatment I think I would give and I was able to make a research project out of it," she said.
Her presentation, "Preventing Acute Kidney Injury in High-Risk Patients by Using Fenoldopam," explored studies that used the drug and tested its effectiveness. For Crabtree, PA Research Day is more than just a presentation.
"It shows how far we've grown from our first year," she said. "And that we are moving from students to clinicians. This day is like a sendoff before graduation."
In addition to faculty and staff members, first-year PA students also attended.
"The presentations are interesting to listen to and it is good to get a sense of the variety of topics since we will be doing this next year," said first-year Anna Marie Stastny. "Next year we will be starting our clinical experiences and I like hearing what my peers are exposed to in practice. We will be able to put what we have been learning and studying in the classroom and bring it to the clinic."