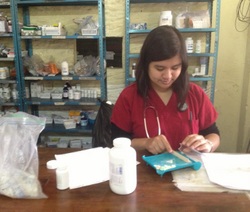 For her second-year clinical preceptorship, medical student Nicole Araneta was assigned to a free clinic. There she often served as a de facto Spanish translator. While her Spanish was sufficient to translate basic clinical visits, the valuable nuances of communication, such as sharing jokes with patients and being able to discuss their emotional concerns, eluded her.
Araneta's desire to become a family medicine doctor for the underserved solidified her desire to speak better Spanish and learn more about the journey of an immigrant patient. She decided to take time off between her third and fourth years to volunteer in Latin America. With help from the Center for Global Health and financial support from the Global Health Initiative, she chose the program Asociación Pop Wuj in Guatemala, and arrived there in August 2012.
"I didn't have any delusions," she said. "I knew I wouldn't become an expert on the many different cultures of Latin America after one year in Guatemala, but I hoped that the experience would help develop my appreciation for other ways of thinking."
Asociación Pop Wuj is a non-profit cooperative with different community projects, one of which is an underserved primary care clinic. Araneta helps with both the permanent clinic site and the mobile van, triaging patients, filling medications in the pharmacy, seeing patients under the supervision of the Guatemalan doctors on staff, and educating patients about healthcare.
"The most interesting part of the experience has been seeing where some of my future patient population will have come from," said Araneta. "Medical science is ineffective if it's not adapted to the patient's perspective, including when clinical reasoning is not communicated well. My time in Guatemala has afforded me increased fluency not only in Spanish, but also in understanding different ways of life, ways of being, and points of view."
The Philippine native also supports another of the organization's projects, this one for patients with chronic conditions whose health needs go beyond primary care. Araneta works as a healthcare advocate for these patients, taking them to laboratories, diagnostic test centers, and specialist clinics. She recounts her experience working with a chronic patient she calls Isaias, a youth at Guardería, a before and after school program for children run through Pop Wuj.
"I became his de facto health advocate, helping his family navigate through Guatemala's winding maze of a healthcare system to get him the specialist attention he needed," she said. "The most exciting part of this experience is exemplified by the high-five Isaias and I shared the last day I took him to the cardiologist, after we were told that his heart was fine."
This month and next, Araneta will rotate with Hospitalito Atitlan. This small hospital brings care to the Tz'utujil Maya around the southern highlands of Lake Atitlan. The organization is the only provider of emergency, surgical, obstetric, and inpatient care within a two-hour radius.
"I've been learning how to practice healthcare with limitations of many types – lack of diagnostic labs and imaging, limited specialist access, the patients' socioeconomic context, and the ins and outs of the health system," she said. "The road to providing care to underserved patients is beset with challenges, but I find that physicians and health workers can help eliminate barriers to care as long as they have insight on what these are. This experience has shown me some of these barriers to full effect."
To learn more about Araneta's experiences, read her blog.