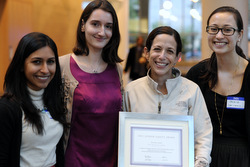 Dozens of students and faculty sipped hot tea and chatted about the medical profession during the annual Fall Afternoon Tea on October 10. The American Medical Women's Association (AMWA) student chapter at Northwestern University Feinberg School of Medicine and Women's Faculty Organization (WFO) co-hosted the mentoring event for students to connect with female faculty members.
 "I've been to this event before and think it is a great opportunity for students to meet faculty," said Nidhi Singh, MD, assistant professor of medicine in gastroenterology and hepatology. "The medical students have concerns about working as a full-time physician, and it is part of my responsibility to share my life experiences with these students so they can learn from them. Our students are bright, motivated, and inquisitive and these qualities will serve them well as doctors."
Second-year medical students Jackie Wong and Riti Mahadevia serve as co-presidents of Feinberg's AMWA. They work closely with AMWA member and WFO representative Shanti Leon Guerrero, also a second-year student, to organize events that connect classmates with strong female role models.
"Our AMWA-WFO afternoon tea was the most inspiring and fulfilling way that I've spent an afternoon in a long time," Wong said. "The women faculty members I met were uniformly enthusiastic about their specialties and about helping us as medical students achieve our goals. This event reassured me that there is a strong community built around helping each other succeed and on congratulating those successes."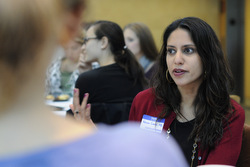 Wong and Mahadevia presented the AMWA Gender Equity Award to Jacqueline Jeruss, MD, PhD, assistant professor in the Department of Surgery. The award, given annually, acknowledges the efforts of a medical professional who has helped to create an environment for gender equity in healthcare in both their professional accomplishments and teaching responsibilities.
"I am honored to receive this award," Jeruss said. "I feel as though it is a tremendous validation with what I am trying to do as a physician-scientist. Additionally, through my work, I can show that it is possible to find balance between working as a surgeon, conducting research, and having a family."
The AMWA student chapter supports the advancement of women in medicine and strives to improve women's health education. The WFO is committed to advancing the careers of women faculty members at all levels.