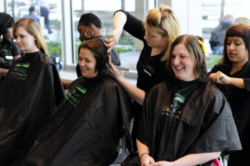 Carissa Ritner smiled at the camera for her "before" photo.
"I have more than enough hair, why not spread it around," she said.
Ritner, a PhD candidate in Northwestern University's Driskill Graduate Program in Life Sciences, cut eight inches off her long, golden locks for the American Medical Women's Association's event, Cuts for Cancer. She was one of 14 women to donate her hair on May 24.
Donations were sent to the Pantene Beautiful Lengths program, which supplies free wigs to women who have lost their hair due to cancer treatment. Student hair stylists from Tricoci University gave free haircuts to those who participated.
Kathryn Fay, a second-year medical student and American Medical Women's Association board member, said "We've met cancer survivors and worked with cancer survivor panels. Losing their hair due to cancer treatment can be a traumatic thing for women."
Fay, also participating in the event, added, "It's pretty cool to know that a part of me will be sent to someone who has cancer. Hopefully, it will make them feel better and maybe give them one less thing to worry about."
Anita Munoz, a program assistant in the Office of Minority and Cultural Affairs, was recently diagnosed with breast cancer. Afraid of losing her hair, she cut off eight inches.
"As I go through a second round of chemotherapy, I am supposed to lose my hair," she said. "If I cut my hair short, I won't experience as much shock. I am going for my wig fitting next week, and looking around at the other women donating here, I feel proud that people care."