Trials Investigate Treatments and Predictions for Heart Failure Patients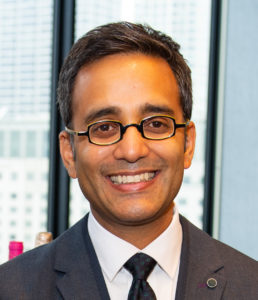 The antidiabetic and weight loss drug semaglutide, sold under the brand names Ozempic and Wegovy, can also help patients with heart failure and obesity lose weight while also improving symptoms and increasing exercise capacity, according to a clinical trial published in the New England Journal of Medicine.
Obesity is known to be a major risk factor for heart disease but has only recently been recognized as a major risk factor for heart failure with preserved ejection fraction, which is increasing in prevalence, affects more than 50 percent of patients with heart failure, and has limited treatment options, said Sanjiv Shah, '00 MD, the Neil J. Stone, MD, Professor and director of the Center for Deep Phenotyping and Precision Therapeutics at the Institute for Artificial Intelligence in Medicine, who was a co-author of the study.
"When it was first recognized in the early 1980s, this syndrome of heart failure with preserved ejection fraction was thought to be due to hypertension and coronary artery disease," Shah said. "However, over the ensuing decades, due to the alarming obesity and diabetes epidemics, the epidemiology of heart failure with preserved ejection fraction has shifted. The major risk factors for this type of heart failure are obesity and sedentary lifestyle."
The major abnormality in patients with heart failure with preserved ejection fraction is not the pumping (squeezing) function of the heart; instead, it is stiffening of the heart muscle, which leads to an inability of the heart to fill with blood properly. The end result is pressure backing up in the lungs and an inability of the heart to meet the body's demands, which can cause significant breathlessness, leg and abdominal swelling, poor quality of life, and poor prognosis.
Given the significant unmet need of heart failure with preserved ejection fraction and the major role of obesity in its development, Shah and other experts in the field were keen on studying the potential therapeutic role of a newer class of weight loss drugs called GLP1 receptor agonists, including semaglutide. Ultimately, the advocacy for such trials led to the current study, in which 529 patients with obesity and heart failure with preserved ejection fraction were randomly assigned to receive once-weekly semaglutide or placebo for a year.
Patients on semaglutide lost more weight, with a mean percentage change in body weight of -13.3 percent compared to -2.6 percent for patients taking a placebo, according to the trial. At the end of the trial, patients receiving semaglutide could also walk farther than those on placebo and had lower levels of C-reactive protein, a biomarker for inflammation known to drive heart failure. Importantly, compared to placebo, patients on semgalutide also had greater reductions in B-type natriuretic peptide, a biomarker that correlates to severity of heart failure.
"It was really remarkable to see how effective a weight loss drug it was, even in the setting of heart failure" Shah said. "However, we were most interested in whether the drug could reduce symptoms and signs of heart failure itself. We found that patients treated with semaglutide (compared to placebo) had much greater improvements in their health status (which includes qualify of life, symptoms and physical limitations). In fact, health status improved with semaglutide more than any other heart failure medical therapy tested to date."
Shah's group at Northwestern Medicine will continue to study additional weight loss drugs to understand the potential benefits they may offer heart failure patients, he said.
"So many of our patients have been written off and ignored for years by healthcare providers because they're overweight; patients with obesity often have shortness of breath and inability to exercise because they have undiagnosed heart failure," Shah said. "I'm really hoping that clinical trials like the ones we are doing either increase recognition of obesity-induced heart failure, leading to more frequent diagnosis, or that treatment of obesity with GLP-1 receptor agonists and other anti-obesity drugs will treat or even prevent the development of heart failure, even if it is never officially diagnosed in these patients."
A small number of patients discontinued treatment because of adverse events: 35 in the semaglutide group and 14 in the placebo group. Gastrointestinal issues were the primary reason, according to the study.
The study was supported by Novo Nordisk.
Advancements in Predicting Heart Failure Mortality
Shah's other recent studies have also provided further insight into the risk factors for heart disease and mortality.
In a separate study co-authored by Shah and recently published in Circulation, the investigators analyzed the results of a previous clinical trial examining patients with heart failure with preserved ejection fraction and the effects of dapagliflozin, an SGLT2 inhibitor, which blocks the absorption of glucose, resulting in greater loss of sodium and water in the urine, thereby treating the dangerous fluid retention that occurs in heart failure patients.
Study investigators, including Shah, who was also a co-author of the original trial, compared medical events — such as an increase in outpatient diuretic use, as well as urgent medical visits and hospitalizations — with subsequent mortality rates.
Patients who had an increase in their outpatient diuretic use had higher subsequent mortality rates, according to the findings, similar to those who had an urgent heart-related medical visit. Patients who were hospitalized with heart failure as their first medical event had the highest rates of subsequent death, according to the results. Besides reducing the need for heart failure hospitalization, dapagliflozin also reduced the need for outpatient diuretic intensification.
As overall heart failure hospitalizations go down with improvements in intervention and treatment, tracking outpatient outcomes becomes increasingly important, Shah said.
"The decision to hospitalize a patient is very different amongst doctors and in different regions," Shah said. "In the U.S., there's a big push to avoid hospitalizations because of the desire to keep rehospitalization rates low. Our study found that outpatient worsening of heart failure results in higher risk for developing poor outcomes and that the drug works to reduce those outpatient worsening events."
While the U.S. Food and Drug Administration mainly looks at reduced hospitalizations as a favorable outcome in clinical trials, Shah said he hopes that the outpatient data will add another measurable outcome for future trials, which will hopefully allow trials of new medicines and devices for heart failure to be done more rapidly, so that patients can get new treatments faster.
"Recent advancements in research around heart failure with preserved ejection fraction are promising," Shah said. "After nearly four decades of numerous neutral clinical trials, we finally have multiple effective drugs, and I expect we will see more advances in drug- and device-based therapeutics in the coming years, making this the 'decade for heart failure with preserved ejection fraction therapeutics' and finally some relief for our suffering patients."