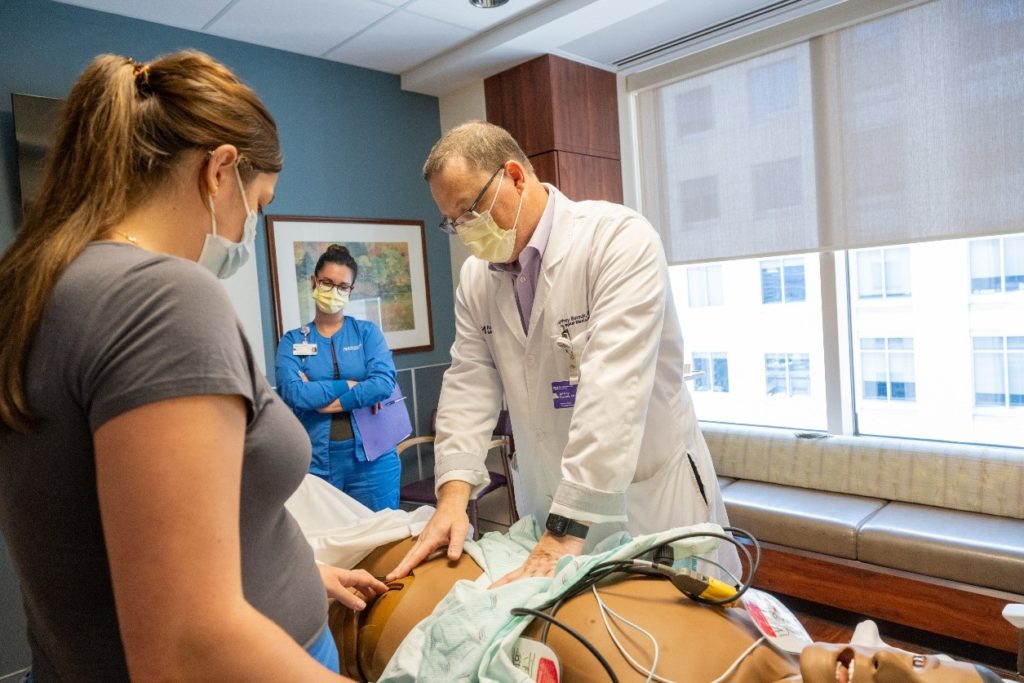 Northwestern Simulation has introduced a new curricular experience to help internal medicine residents improve skills needed for the high-acuity, high-intensity scenario of leading and managing cardiac arrests in the hospital. The new experience occurs alongside a complete code response team in the hospital setting through an in situ simulation.
"In situ simulation is a simulation that physically occurs in the hospital. These simulations allow for experiential learning in the time-pressured clinical environment with a higher degree of realism," said Jeffrey H. Barsuk, MD, the executive medical director of Northwestern Simulation, and the Robert Hirschtick Professor of Medicine and Medical Education.
All second-year residents at Northwestern participate in a cardiac arrest simulation-based mastery learning curriculum (SBML), which was created by Diane B. Wayne, MD, professor of Medicine (General Internal Medicine) and Medical Education and her team. Residents are required to meet a high level of skill (i.e., reach mastery) in the Northwestern simulation laboratory before leading cardiac arrests on real patients. According to Barsuk, the Advanced Cardiac Life Support (ACLS) simulation-based mastery learning (SBML) curriculum been shown to improve patient care through better compliance with American Heart Association ACLS algorithms and is superior to "regular" simulation training where skills mastery is not required.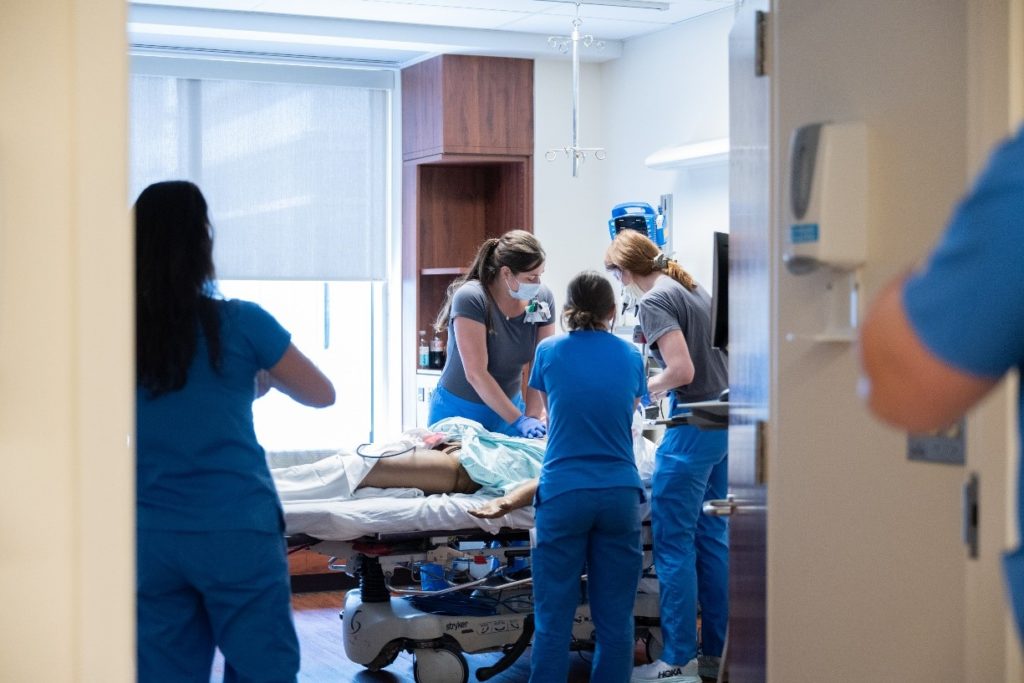 "Multiple studies show that simulation-based medical education produces superior learning outcomes compared to traditional education, such as lectures or reading," Barsuk said. "Additionally, the use of simulation-based mastery learning has been linked to better clinical care and patient outcomes in multiple clinical domains."
The in situ training is a natural extension of the lab-dependent SBML training because it allows team members to continue to refine their skills in the patient care setting with the actual hospital cardiac arrest team personnel. Training emphasizes teamwork, communication, and ACLS diagnostic and treatment skills.
"In situ simulation also allows the evaluation of hospital systems that cannot be tested in the simulation center," Barsuk said. "It identifies latent threats and system issues that can compromise patient safety. It also allows for experiential learning related to teamwork and communication that creates a patient safety culture."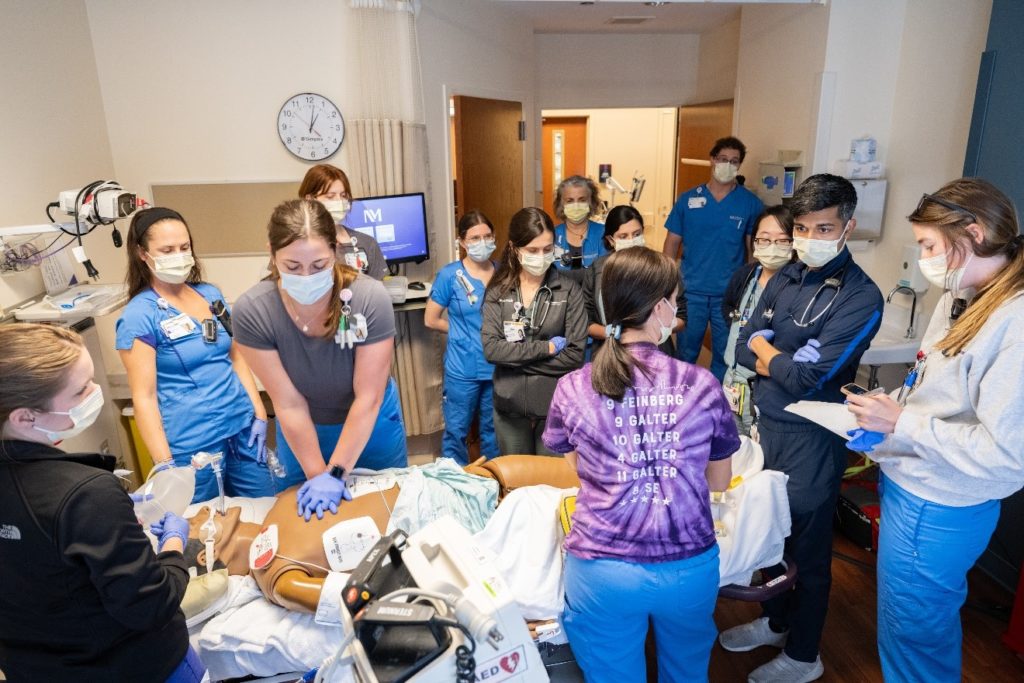 Stephanie Franco, a third-year internal medicine resident, says that she has found using simulation technology in the hospital to be an incredibly helpful way to practice skills that are needed in high-intensity situations, without the pressure of actual patient outcomes on the line.
"By practicing in this setting, you can hone those skills that are most needed in a setting that feels safe and controlled," Franco said. "There is the same need to maintain calmness and composure, clearly state your own role and ensure other roles are assigned, communicate clearly and respectfully, utilize closed-loop communication, think through data as it becomes available, and make decisions on the spot with the information you have. By practicing all of this in a controlled setting, it allows the team to operate more effectively during the real event in order to improve patient care."
Abhi Appukutty, third-year internal medicine resident, emphasized the importance of simulation training to allow trainees to learn from their own work and build new skills in the areas of communication, teamwork and leadership, which are often harder to teach in a classroom setting.
"Simulation training is so important in medical education, as it allows practical experience and feedback on real-life scenarios during which knowledge application is just as important as the knowledge itself," Appukutty said.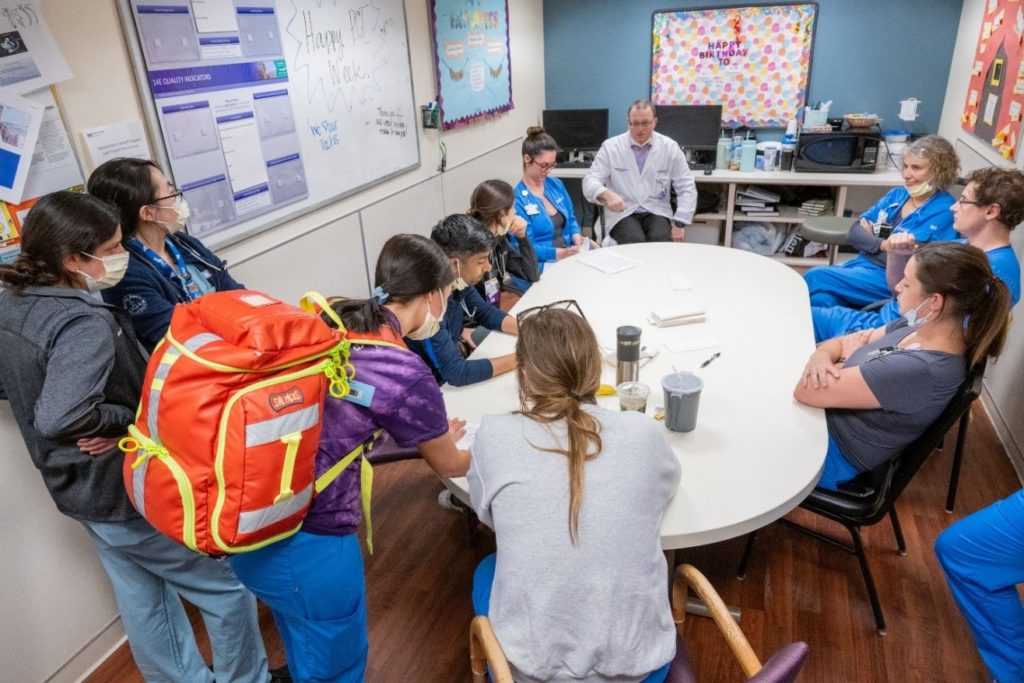 During a recent in situ session, Appukutty was the code leader during a simulated cardiac arrest due to severe sepsis. The "patient" had end-stage liver disease and was awaiting a liver transplant. The patient's nurse identified the cardiac arrest and called the code through the hospital operator. A team of floor nurses initiated high-quality CPR and hooked up the automatic external defibrillator, which indicated that no shock was necessary. Subsequently, internal medicine residents, anesthesiologists, respiratory therapists, a pharmacist, nurses, and patient care technicians worked together to resuscitate the simulated patient with various advanced techniques including intubation, intraosseous line insertion and medications.
The in situ cardiac arrest simulation sessions are made possible by a generous gift from Sean D. O'Connor, MD, clinical assistant professor of Medicine in the Division of General Internal Medicine. Northwestern Simulation first started the in situ cardiac arrest simulation training, designed to replicate cardiac arrest ("code") scenarios that might occur in the hospital, at Northwestern Memorial Hospital in August 2021. The sessions are currently run approximately one to two times a month.
After in situ sessions are completed, all participants congregate in a conference room to debrief on the case. During debriefing sessions, the team identifies systems errors and ways to improve teamwork, communication and ACLS skills.
Of note, when the cardiac arrest page is sent out to the code team, it is made clear that the cardiac arrest is a simulation so that emergent real patient care is not compromised. Individuals on the code team are expected to attend to real patient care before coming to the in situ simulations.