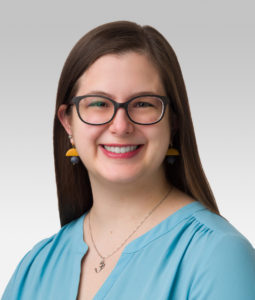 Sexual minority women have a higher risk of postpartum depression but are less likely to have their sexual identities documented in electronic medical records, according to a Northwestern Medicine study published in JAMA Psychiatry.
The study's findings highlight a gap in the standard of care for perinatal health, which should include more appropriate and reliable strategies that measure patients' sexual orientation, according to Leiszle Lapping-Carr, PhD, '19 GME, an instructor in the Department of Psychiatry and Behavioral Sciences and senior author of the study.
"These findings support previous research that sexual minority women seem to be at higher risk for postpartum depression compared to heterosexual women. That medical record review currently does not seem to capture patients' sexual orientation reflects the way that our society and our healthcare system approach perinatal healthcare right now — this heteronormative approach in which everyone who presents with a pregnancy is presumed to be a woman and is presumed to be partnered with a man," Lapping-Carr said.
Nearly 17 percent of all births in the United States are to sexual minority women, according to a previous nationally representative survey. However, perinatal depression screening rates, related symptoms and risk factors have historically been understudied in these patients.
In the current study, Lapping-Carr and her team aimed to compare perinatal depression screening rates and scores among sexual minority women and women who were heterosexual and cisgender, looking separately at rates during pregnancy and during postpartum care.
The investigators reviewed anonymous electronic medical record data of more than 18,200 individuals who gave birth at an academic medical center in Chicago, Illinois, between January 1 and December 31, 2019. Patient scores from the routinely administered 9-item Patient Health Questionnaire as well as depression screening rates from both patient groups were reviewed in the analysis.
Of the total number of patients (who were on average 34 years old, and including 57 percent who were non-Hispanic white), only 1.5 percent identified as having sexual minority status in their medical record, which falls well below overall population estimates of 17 percent from previous literature, according to Lapping-Carr.
"That's a very big difference," Lapping-Carr said. "It's more likely that the medical record review doesn't fully capture people's identities, than that our sample was genuinely that much more heterosexual compared to the nationally representative estimate."
Overall, more sexual minority women attended at least one prenatal care visit compared to heterosexual cisgender women (20 percent versus 13.7 percent), and at least one postpartum care visit (18.6 percent versus 12.8 percent). Sexual minority women were also more likely to be screened for depression during postpartum care, but were more likely to screen positive for depression during the postpartum period than heterosexual women.
"Even though they [sexual minority women]were more engaged with care during the perinatal period, sexual minority women were more likely to score high enough on the screen that their symptoms would suggest clinical depression, something that you would want to refer for treatment," Lapping-Carr said.
The findings also underscore a need for additional training for healthcare providers so they can better identify whether a patient identifies as a sexual minority and how their sexual orientation may impact their everyday life and overall wellbeing, according to Lapping-Carr.
"It's not part of most clinician's training, it's not part of their standard way of thinking about perinatal care to ask about whether or not these identities are present for the person and how they might be interacting with other aspects of their life to increase stress. Some stressors might include increased cost of getting pregnant without the benefit from insurance coverage and the need for the non-birthing parent to legally adopt the child instead of parenthood just being granted if you're partnered a man. There are a lot of differences in starting a family for people coming from sexual minority communities that most clinicians simply aren't aware of," Lapping-Carr said.
Co-authors of the study include Katherine Wisner, MD, the Norman and Helen Asher Professor of Psychiatry and Behavioral Sciences and director of the Asher Center for the Study and Treatment of Depressive Disorders, and S. Darius Tandon, PhD, associate professor of Medical Social Sciences and director of the Institute for Public Health and Medicine (IPHAM) Center for Community Health.
This research was funded by a 2021 Ken and Ruth Davee Award for Innovative Investigations in Affective Disorders.