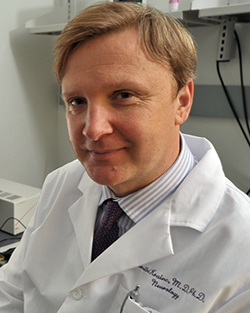 Dimitri Krainc, MD, the chair and Aaron Montgomery Ward Professor of Neurology and director of the Simpson Querrey Center for Neurogenetics, has been elected president of the American Neurological Association (ANA).
Founded in 1875, the ANA is the premier professional society of academic neurologists and neuroscientists dedicated to furthering research to understand neurological health and treat diseases of the nervous system.
Krainc will first serve as president-elect, followed by two years of service as president of the association.
"It is a great honor to be in the company of some of the giants in our field who were past presidents of the ANA, such as Derek E. Denny-Brown, Houston H. Merritt, Raymond D. Adams, Joseph B. Martin, Anne B. Young and many others who have defined the field of neurology in the last 150 years," Krainc said.
Krainc's research focuses on defining key molecular pathways in the pathogenesis of neurodegeneration and uncovering targets for therapeutic development. His contributions to the field have been recognized by many awards and his election to the National Academy of Medicine for groundbreaking discoveries in the area of neurodegenerative disorders.
As president of the ANA, Krainc hopes to focus on supporting academic neurologists throughout the many stages of their careers, he said.
"The traditional view has been that neurologists working in research labs are considered academic, but as research has become more patient-focused, clinical neurologists are increasingly engaged in academic pursuits," Krainc said. "The ANA has an opportunity to lead in career development initiatives and programs through early engagement of students, residents and fellows, as well as working closely with The National Institute of Neurological Disorders and Stroke, which has a suite of programs to cover the career trajectory of academic neurologists."
Additionally, Krainc said he hopes that the ANA will promote data sharing and the use of cutting-edge technologies more broadly in neurological research.
"I believe that at the ANA we have an opportunity to highlight the role of emerging technologies in studies of disease mechanisms and discovery of biomarkers to improve patient stratification and monitoring of disease progression," he said. "The ANA should also play a more active role in promoting rigorously standardized data collection and sharing of methods and datasets across sectors".
Krainc's recognition is a testament to the caliber of academic programs that were developed in the Ken and Ruth Davee Department of Neurology under his leadership.
"In this healthcare environment, there are significant pressures that in some ways challenge the traditional model of academic medicine. At the same time, breakthroughs at the intersection of biological science, information sciences, and technology are increasing the speed of discoveries in neurology," Krainc said. "There is an opportunity to be creative and make academic and clinical missions compatible and synergistic. We recognize that both excellent care delivery and scientific innovation play a role in advancing medicine and improving health outcomes. Health equity is also a pressing issue, and a system approach is needed to address it, including at every step of implementing precision medicine such as biobanking, genetics, basic and translational science. Many of these challenges are very similar at the level of academic departments, as well as nationally, and I am committed to making a difference, both as department chair and as ANA president."