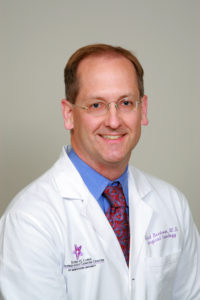 Administering broad-spectrum antibiotics before pancreatic tumor surgery decreases the chances of surgical site infection, according to a recent study published in JAMA.
Pancreatic cancer accounts for roughly 3 percent of all cancers in the U.S. and about 7 percent of all cancer deaths each year, according to the American Cancer Society.
Pancreatic cancer is difficult to detect early and treat, as it doesn't respond well to commonly used cancer therapies. Surgery to remove all or part of the pancreas is often the best option and most common treatment, according to the study.
A regimen of the antibiotic cefoxitin is currently the standard of care for patients preparing to undergo a pancreatoduodenectomy, or surgery to remove the head of the pancreas, the first part of the small intestine, the gallbladder and the bile duct. Despite receiving antibiotics before the operation, surgical site infection is still a common complication, said David Bentrem, MD, MSCI, '03 GME, professor of Surgery in the Division of Surgical Oncology and a co-author of the study.
"Pancreas surgery still has a comparably high morbidity rate," said Bentrem, who is also a member of the Robert H. Lurie Comprehensive Cancer Center of Northwestern University. "One of the main things that still plagues this operation is a high infection rate, both superficial and deep infection. There was some good preliminary research showing that there can be some antibiotic-resistant bacteria in those infections. So based on that preliminary research, we got together as part of the American College of Surgeons National Surgical Quality Improvement Program and had the idea for this trial idea to analyze one antibiotic (broader spectrum) versus another to try to see if it lowered the infection rate."
In the current trial, more than 700 patients undergoing pancreatoduodenectomy at multiple medical centers across the U.S. received either piperacillin-tazobactam, a broad-spectrum antibiotic, or cefoxitin, the current standard of care for preoperative patients.
Thirty days after the surgery, 20 percent of patients who received piperacillin-tazobactam experienced surgical site infection compared to 33 percent of those who received cefoxitin. Patients who received a broad-spectrum antibiotic also experienced fewer cases of pancreatic fistula, which can cause the pancreas to leak fluid, according to the study.
"What we found was there was a lower infection rate for the patients that got the broader spectrum antibiotic that covered those antibiotic-resistant bacteria," Bentrem said.
The results have already prompted a switch in antibiotics for Bentrem's operations and he hopes other medical centers will follow suit, he said.
"I think this is a practice-changing result. Surgeons that do this operation will see this paper and begin to order this particular antibiotic, is our hope," Bentrem said. "For this specific type of procedure with a higher infection rate and a higher incidence of resistant bacteria, this broad-spectrum antibiotic works better."
The study was supported by National Institutes of Health Cancer Center Support Grant P30-CA008748.