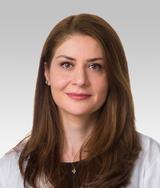 The use of ultrasound screening combined with 3D mammography only slightly increased the detection rate of breast cancer in women with dense breasts, according to a prospective multicenter study published in the Journal of Clinical Oncology.
Nearly half of all women 40 years and older in the U.S. have dense breasts, putting them at an increased risk for breast cancer, according to the National Cancer Institute. Dense breast tissue also makes it difficult to detect breast cancer with traditional two-dimensional mammograms, according to Golbahar Houshmand, MD, assistant professor of Radiology in the Division of Breast Imaging and a co-author of the study.
"Mammography has been the standard of care for the early detection of breast cancer, and it does save lives," Houshmand said. "But there are some limitations, one of which is the density of the breast. This makes it difficult to see the cancer, as the noncalcified breast cancer is often masked mammographically in dense breasts. To remedy that, supplemental ultrasound screening is recommended to find mammographically occult cancer. In this trial, we wanted to assess the diagnostic performance of handheld ultrasound in women with dense breasts and quantify the improvement in cancer detection with supplemental ultrasound over mammography alone."
In the study, investigators at the University of Pittsburgh Medical Center Magee-Womens Hospital tracked more than 6,200 women aged 40-75 with dense breasts as they underwent three rounds of annual breast cancer screening. The screening included digital breast tomosynthesis, a type of 3D mammography, in combination with ultrasound screening.
Investigators found that the use of ultrasound screening in combination with 3D mammography yielded only a modest cancer detection rate of one in 1,000. The results underscore the need for a variety of detection strategies for women with dense breasts, Houshmand said.
"Tomosynthesis slightly improves cancer detection over 2D mammography in dense breasts. Adding ultrasound to the 3D mammography increased the sensitivity to some extent but this increase was not significant," Houshmand said. "Due to several studies demonstrating a much higher detection of cancer with breast MRI, we are currently recommending supplemental screening in women with dense breasts with magnetic resonance imaging, instead of ultrasound. In our next study to follow, we hope to compare the sensitivity of abbreviated MRI to ultrasound to prove MRI's effectiveness in cancer detection."
The use of 3D mammography combined with ultrasound screening may still be a good option for patients who cannot undergo MRI screening, she said.
"For patients who are claustrophobic, pregnant or whose insurance won't cover the MRI, ultrasound screening could be a modality to consider," Houshmand said. "Regardless of the supplemental screening modality chosen, it is incredibly important at minimum that women understand what density of breasts they have, what their risk of breast cancer is and get screened annually."
This study was supported by National Cancer Institute/National Institutes of Health grant R01CA187593 and the Pennsylvania Breast Cancer Coalition.