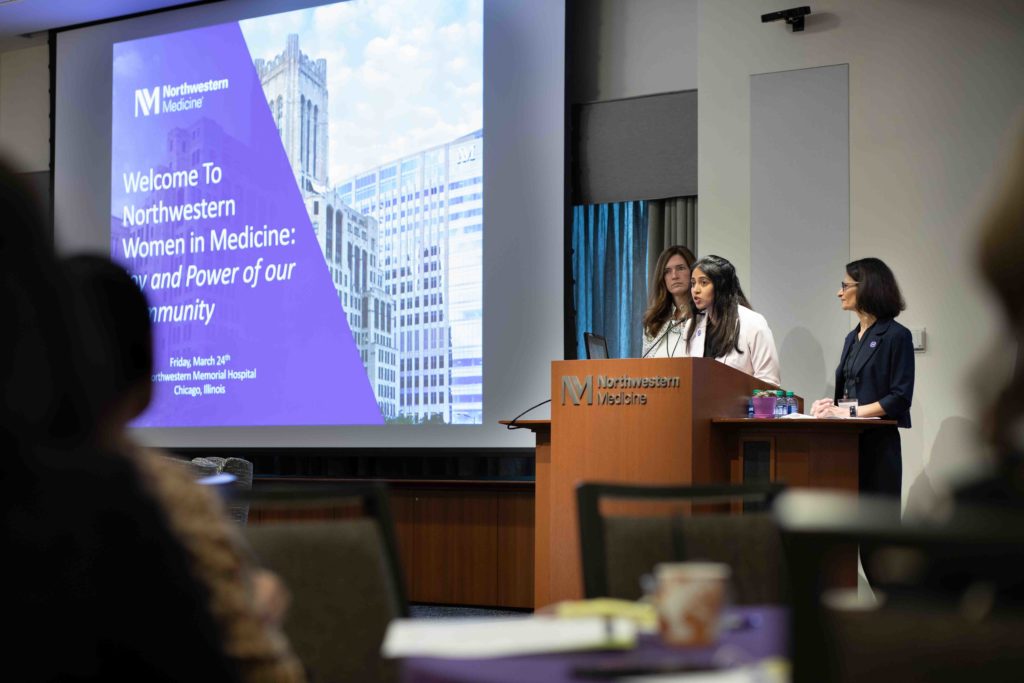 Women in the medical field and their allies gathered in the Feinberg Conference Center at Northwestern Memorial Hospital on Friday, March 24 to celebrate community during the fifth annual Women in Medicine conference.
The theme of this year's day-long conference was "The Joy and Power of our Community," and featured presentations and panels on harnessing community to empower women in medicine and advocate for gender equity in healthcare.
"This conference was born out of a need to support and celebrate women in medicine. It was also born out of a need to address some systemic issues that face women and those underrepresented in medicine," said Cybele Ghossein, MD, vice chair for Academic and Faculty Affairs in the Department of Medicine and a co-organizer of the conference. "It's a day for all of us to stop, listen, share, learn and develop some strategies to address the challenges that we face. I've been so inspired by the community that this conference creates."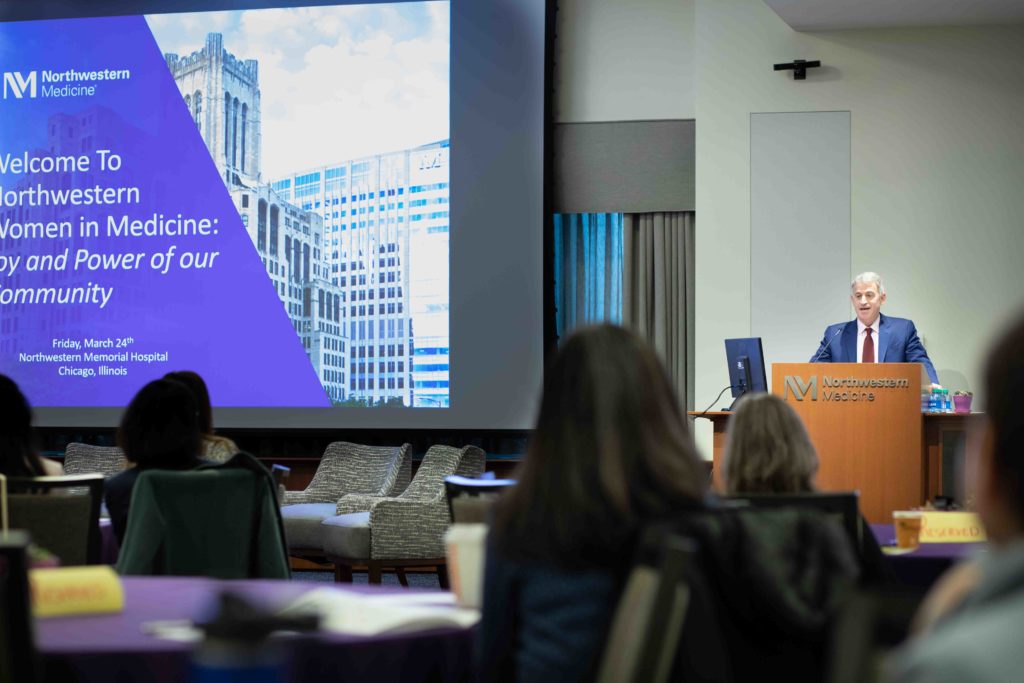 Sarah Friedewald, MD, chief of Breast Imaging in the Department of Radiology, and Angira Patel, MD, MPH, '10, '11 GME, associate professor of Pediatrics in the Division of Cardiology and of Medical Education, were also co-organizers.
Howard Chrisman, MD, Chief Executive Officer of Northwestern Memorial HealthCare, delivered the opening remarks and promised to continue listening to women physicians and work with them to reduce burnout, improve employee wellbeing and ensure Northwestern healthcare providers are recognized and respected for their work.
"When we think about work-life integration, to me, it's recognizing we need to be more flexible, and that's defined in a variety of ways. But it is a part of the conversation, we need to be more agile," Chrisman said to attendees. "All of us live in a world where we have outside interests, and we have families, and we have spouses that perhaps work. At the end of the day, at least for me, it's hard to trump family… So, part of my role is to really create that way."
This year's conference was the first following the overturning of Roe v. Wade, and a panel of Northwestern physicians discussed the importance of physician advocacy to improve access to abortion and OB/GYN healthcare overall.
"We can't look away. These bills keep getting introduced, and we have to know the system of who to talk to and where to go," said Maura Parker Quinlan, MD, MPH, a health system clinician in the Department of Obstetrics and Gynecology. "I have been in rooms in the Illinois Senate in Springfield. There's a lot of men, and zero people who've ever taken care of patients and they are talking about a bill for patient care."
Another panel discussed the importance of communities for women in science and medicine.
"This is a field where traditionally, there have been a lot of men, and it's so much fun to just work in a group of women and that's because we have so many talented women here at Northwestern," said Mercedes Carnethon, PhD, the vice chair and Mary Harris Thompson Professor of Preventive Medicine and of Medicine in the Division of Pulmonary and Critical Care. "I think we've done such a great job of bringing people in and creating such a sense of community."
Rinad Beidas, PhD, the chair and Ralph Seal Paffenbarger Professor of Medical Social Sciences, gave a presentation on how to harness implementation science to address gender disparities in medicine.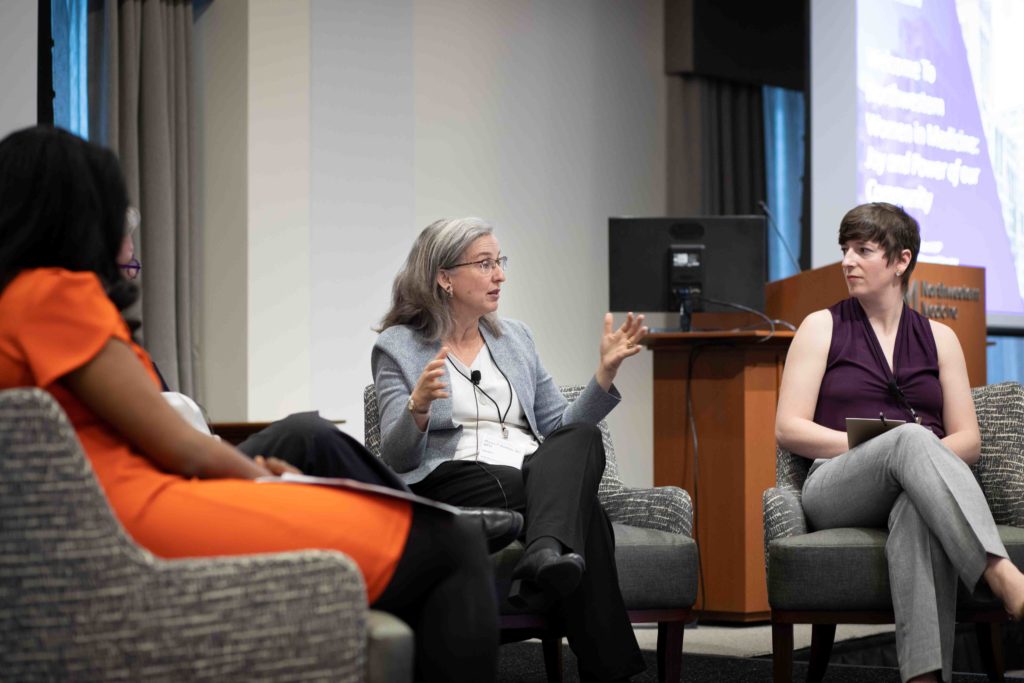 "The time is now to come together and apply rigorous methods from implementation science and both develop the knowledge base around how to close inequities in gender, as well as implement practices that we already know work in academic medicine that move us toward this vision," Beidas said.
Olutoyin Olutoye, professor of Anesthesiology in the Division of Pediatric Anesthesiology, discussed the importance of lifting other women up during her presentation on mentorship.
"If you think about mentorship, really, a lot of people have gone further than they ever thought they could have because somebody else thought they could," Olutoye said.
Kalilah Gates, MD, assistant dean of Medical Education, gave the closing remarks, which centered on how Northwestern's community of women has brought her joy.
"When women affirm women, it unlocks our power," Gates said. "It gives us permission to shine brighter. So, with that, let us all bask in the joy of this community. Let us all shine as bright as our lights allow."