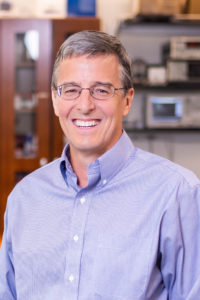 Northwestern Medicine scientists have developed a wireless, self-powered, bioresorbable implant for programmed drug delivery, the details of which were published in Proceedings of the National Academy of Sciences.
The implant, which resembles a small computer chip, is loaded with a drug prior to implantation. When exposed to a small external light source, the implant's wavelength-sensitive phototransistor opens a gate, releasing a reservoir of a drug into the body.
Because the implant will be completely absorbed by the body once the drug therapy regimen is complete, there's no need for it to be removed with surgery.
This makes the novel implant ideal for the precise management of acute forms of pain, said lead study author John Rogers, PhD, the Louis Simpson and Kimberly Querrey Professor of Materials Science and Engineering, Biomedical Engineering and Neurological Surgery at McCormick and Feinberg.
"This platform allows a patient or an attending physician to precisely time the release and the dosage of drugs according to specific need – in the demonstrated examples, for strong, reversible pain-relieving nerve block," said Rogers, who is also a member of the Robert H. Lurie Comprehensive Cancer Center of Northwestern University. "After use, the device naturally and safely dissolves in the body, to avoid the need for surgical extraction."
In the study, Rogers and his collaborators tested the device on rats. Once activated, the chip delivered pain medication to the rat without triggering rejection of the device.
The study was a result of collaboration between research teams at Northwestern and Shirley Ryan Ability Lab, said study co-author Colin Franz, MD, PhD '13, '17 GME, assistant professor of Neurology and of Physical Medicine and Rehabilitation.
"This study and application have implications for the precise management of pain, which in light of the opioid epidemic is of great importance for many patients and clinicians," Franz said. "The reversible nerve block is demonstrated in this study is a safe, non-addictive alternative to systemically delivered pain medications."
Moving forward, Northwestern Medicine investigators will further test the implant for safety before moving on to human trials, said first study author Yamin Zhang, a postdoctoral fellow in the Rogers laboratory.
"This platform only requires external light sources to trigger a programmable drug delivery event, without the need for external power supplies, wired connections. This technology can be utilized with nearly any type of medication," Zhang said. "It also allows for multiple drug release events and accurate control of drug delivery, without unwanted drug leakage. Future work will include designing reusable gates which open to release the drug after light activation and refillable drug reservoirs for chronic treatments."