Investigators led by Julia Cox, PhD, research assistant professor of Neuroscience, have discovered novel neural mechanisms that influence sex differences in motivation based on past experiences, according to findings published in Nature Neuroscience.
While sex differences in decision-making behaviors have long been studied, the exact neural mechanisms that mediate these differences have remained poorly understood.
In the current study, investigators studied the activation of a specific subset of neurons in laboratory mice that performed a decision-making task. The task was based on a reinforcement learning model and involved the mice choosing a lever to press in the hopes of receiving a reward.
"The mice had to basically use trial and error and their previous experiences to figure out which lever was more likely to give them a reward," Cox said.
Once the mice were trained in this task, the investigators performed two different experiments. The first utilized optogenetic inactivation, in which the investigators implanted optic fibers into the mice brains, allowing them to decrease neuronal activity with a light-activated protein and determine how these changes in neuronal activity influenced the mice's behavior.
In the second experiment, the team used miniaturized high-resolution microscopic lenses while the mice performed tasks, which allowed investigators to use advanced imaging techniques and analyze when subsets of neurons were activated during the tasks.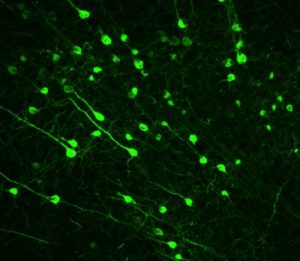 While the choices were similar among all the mice, the motivation to engage in the task was influenced by "action value," or how likely one is to receive a reward for an action based on past experiences, more strongly in the female mice compared to the male mice.
"The initial goal of this experiment was not to find a sex difference, so we were pretty surprised by that," Cox said.
Cox's team also found that inhibiting activity in neurons that project from the anterior cingulate cortex to the dorsomedial striatum — both areas of the brain essential for decision-making — disrupted the relationship between value and motivation in the female mice.
After replicating these experiments with human participants, the investigators discovered that female participants were slower to reengage in the task based on what happened in previous trials compared to male participants.
"In that regard, there are similarities," Cox said. "I think that more broadly, when studying sex differences in laboratory animals, even if the behavioral differences don't always end up translating to humans, it's possible that some of the differences in the neural circuits still are consistent across species."
Moving forward, Cox said she's interested in identifying which neural circuits are essential for motivation to perform decision-making behaviors in males and how these sex-dependent neural mechanisms could also be related to sex differences in stress response.
This work was done at the Ilana Witten lab at the Princeton Neuroscience Institute and supported by the National Institutes of Health grant F32MH112320-02.