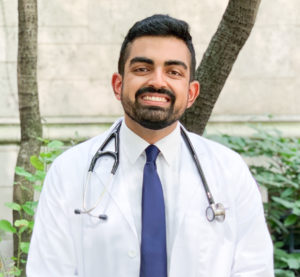 Shiv Patel is a second-year medical student at Feinberg and is originally from North Carolina. He attended Northwestern for undergrad, where he majored in psychology and data science and also participated in Northwestern's Honors Program in Medical Education.
Patel was also recently selected as a recipient of the Tylenol Future Care Scholarship, which awards 35 students nationwide pursuing healthcare degrees with scholarships totaling $250,000 to use towards their medical school education. Awardees join a cohort of other Tylenol Scholars, where they can access unique networking, career advancement and educational opportunities.
Read a Q&A with Patel below.
Why did you choose Feinberg?
Listen to Patel below:
Coming from a residential STEM high school, I recognized the value of being surrounded by like-minded students who shared a motivation to constantly seek new opportunities and to maximize their potential. I saw my peers involved in activities and competitions that I wasn't aware of before, and this realization led me to put forth my best effort in my own endeavors. I sought to build upon this experience during my time in college and into graduate school, and Northwestern's program afforded the flexibility to do just that.
What are your clinical and research interests?
As part of Feinberg's Area of Scholarly Concentration education requirement, I've been involved in dermatology research under the mentorship of Dr. Maria Colavincenzo. Our project focuses on examining the role of COVID-19 and the development of hair loss following infection. While there's really limited research on this topic at the moment, we're seeking to identify the risk factors that could predispose COVID patients to develop hair loss and ultimately encourage closer monitoring of these populations to implement earlier treatment interventions accordingly.
Beyond my research interests, I've also engaged in service activities that have allowed me to impact the community around Feinberg, as well. I've worked closely with the Indian American Medical Association Charitable Foundation Free Health Clinic, commonly known as the Devon Clinic, to establish a volunteer program for Feinberg students to provide care to predominantly uninsured South Asian immigrant populations in Chicago. My role as coordinator of the clinic has been really fulfilling, but above all, I feel that my interactions with the patients at the clinic resonate as a reminder of my motivations to pursue a career in medicine. I can say without a doubt that it's been a defining experience of my time at Feinberg.
Tell me more about your Tylenol Future Care Scholarship. What does it mean to you to receive this scholarship and how will it help advance your medical school career?
I'm incredibly grateful to have received the award and it'll definitely serve as a substantial source of support for my medical education. In addition to the financial contribution of the scholarship, I'm also really excited to join the comradery of an exceptional cohort of Tylenol Scholars who will lead advancements in the field and find new ways to give back to their own communities.
What advice would you give to prospective medical students?
There's definitely an immense amount of opportunities available to students at Feinberg, and you have the ability to explore the breadth and depth of your interest during your time here. During my time at Northwestern, I've been able to take part in a variety of activities, from dancing on a competitive Bhangra team to pitching a product at VentureCat, the annual startup competition at Northwestern. As a medical student, I've continued to pursue these passions through the integrated curriculum that Feinberg offers.
I found that pursuing these interests with the intention to learn and grow from them has been the most rewarding for me. Oftentimes I have found myself learning from those around me, and I think that surrounding yourself with mentors and peers that support your ambitions can provide tremendous value to achieving your goals.